Laos Tour
Laos is one of the few truly exotic travel destinations left in the world as the only landlocked country in Southeast Asia influenced by European and Asian cultures, located between the rugged mountains and the fertile lowlands of the Mekong River. Laos is surrounded by free and 'back-in-time' flavor, adorned with atmospheric Buddhist temples, spectacular waterfalls and islands and primitive village life, etc. It still preserves the precious purity and nature without too much commercialization that gives you a more interesting Laos tour.
Indochinatourguide is pleased to offer great service in your Laos Tour. You are guaranteed a roller coaster of a cultural ride in exploring this country.
Laos Cities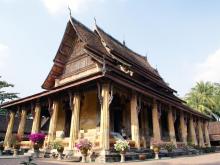 The distinct geography divides Laos into 3 regions; each city has unique features that draw people's eyes. The most popular destinations in Laos tour include Vientiane, Luang Prabang, Paske, etc.
Things to Do in Laos
Though Laos holds sleepy and laid-back atmosphere, it doesn't mean the lack of things to do. Concerning its unique geographic shape, Laos is a land full of enchantment and charm, boasting something for nearly every type of tourist, from the person who wants to drift along the stunning Mekong River and enjoy life as it passes slowly, to the adventurer of exploring remote areas in the countryside. Encountering with such diversified charms will leave you a merry Laos tour.
Laos Food

Lao cuisine is spicy and sour that you'll experience it in the Laos tour. It uses lots of fresh herbs and vegetables served raw that can be used to cool your mouth. The most popular dish is noodles, and lard is nationally accepted.