Home > Laos Tour > Laos Attractions
Kuang Si Waterfalls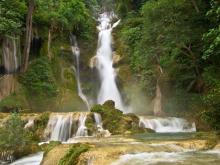 Kuang Si Waterfall is a three tier waterfall about 29 kilometres (18 mi) south of Luang Prabang in Laos. These waterfalls are a favourite side trip for tourists in Luang Prabang. The falls begin in shallow pools atop a steep hillside.
Kuang Si Waterfall is accessed via a trail to a left of the falls, collects in numerous, and then cascade down a multilevel limestone formation creating a series of turquoise blue pools perfect for swimming in on a hot day. (Note: when bathing, please wear a sarong, no bare bodies). The many cascades that result are typical of travertine waterfalls.
A nominal admission fee is charged to visit Kuang Si Waterfalls, but it is well main maintained with walkways and bridges to guide the visitor. Most of the pools are open to swimming (although at least one is closed as being a sacred site). The best time to visit is from November to the next April.
Recommended Tours with Kuang Si Waterfalls: 4 Days Laos Highlights Tour; 8 Days Laos Classic Tour; 12 Days Laos Discovery Tour.
Top Tours in Laos