Home > Indochina Tours
12 Days Laos Discovery Tour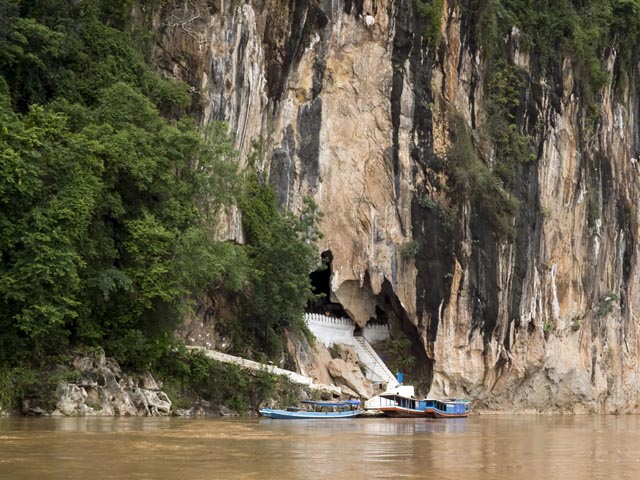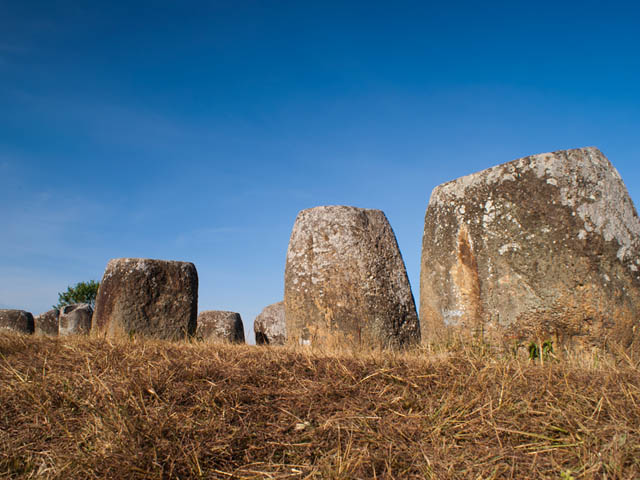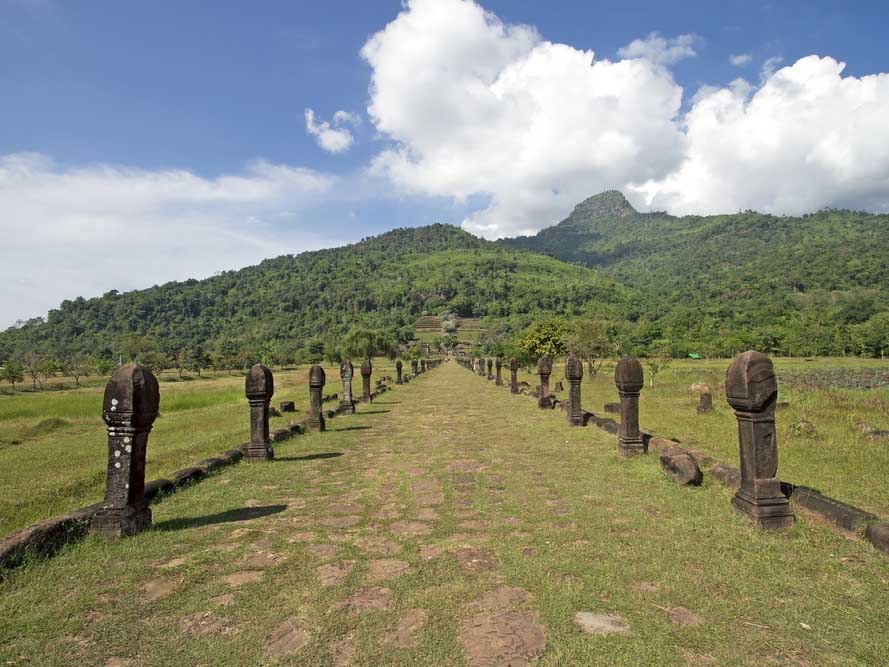 Tour Highlights
Pak Ou Caves
World Heritage Site
Primitive Villages
Plain of Jars
Waterfulls
Daily Itinerary
Day 1 Arrival at Luang Prabang
Upon arrival at Luang Prabang, you are transferred to hotel for rest.

Then head to Wat Xieng Thong (Golden City Temple), one of the most important of Lao monasteries that remains a significant monument to the spirit of religion, royalty and traditional art. There are over twenty structures on the grounds including a sim, shrines, pavilions and residences, in addition to its gardens of various flowers, ornamental shrubs and trees.

Climb up 350 steps to the top of the Phou Sii Hill to visit Wat Phu Sii and enjoy the stunning views for many miles in each direction.
Day 2 Luang Prabang
( Breakfast )
An optional early start gives you the fantastic opportunity to participate in the daily morning rituals of saffron-clad monks collecting offerings of Alms (often in the form of sticky rice) from the faithful residents. This tradition is very unique in Laos , being the only Buddhist nation still preserving the ritual.

Visit Royal Palace Museum (Haw Kham) built in 1904 during the French colonial era for King Sisavang Vong and his family.

Take a boat on the mighty Mekong River to visit the famous & sacred Pak Ou Caves, noted for their miniature Buddha sculptures. You can appreciate hundreds of very small and mostly damaged wooden Buddhist figures in different positions laying out over the wall shelves.

On return, disembark the boat to visit traditional villages, and take a short drive to Ban Phanom, a village famous for its hand weaving.
Day 3 Luang Prabang
( Breakfast )
Today cross the Mekong River by boat, to the picturesque Ban Chan Village, a pottery village. Visit the morning Phousi Market, where you see a variety of offerings such as dried buffalo skin, local tea and hill-tribe weavings, etc.

Then visit local villages of Lao ethnic minority groups at Ban Ouay, a Hmong village, Ban Ou, a Laoloum village, and Ban Thapene, a Khmu village.

Later turn your attention to the beautiful Khuang Si Waterfall where you can cool off with a refreshing swim in the pools or walk along the forest trails to appreciate the natural scene.
Day 4 Luang Prabang - Xieng Khoang
( Breakfast )
Morning drive to Xieng Khoang to visit the mysterious Plain of Jars, which is a extensive area around Phonsavan, surrounded by mountains, where massive stone urns of mysterious origin are scattered about in a dozen major groupings.

Thoung Hai Hin (Stone Jar Plain) is 15 km southwest of Phonsavan and the largest of the sites. It houses 250 jars mostly weighing from 600kg to one ton each; the biggest of them weighs as much as six tons!

Back to the hotel and stay overnight in Xieng Khoang.
Day 5 Xieng Khoang
( Breakfast )
This morning visit the interesting Central Market in Phonsavan.

Appreciate the MAG exhibition and Site 2 of the Plain of Jars before taking a short scenic trek to Site 3 via a Tai Dam and Lao Leum Village.

Afternoon go to visit the old capital of Muang Khoun and the nearby villages, home to the Hmong hill tribe and Tai Dam people.
Day 6 Xieng Khoang - Vang Vieng
( Breakfast )
Morning drive to Vang Vieng from Xieng Khoang.

Vang Vieng was once a key military airfield during the Indochina wars. Its central feature is the long-abandoned runway along the eastern side of town. On the west side, a small river separates the town from the nearby caves & mountains, which can easily be visited from town.

Visit the famous Caves of Tham Jang, which were once used by the local people as a hideout from Chinese invaders.
Day 7 Vang Vieng - Vientiane
( Breakfast )
Cross the river to Ban Huai Ngai, a very pleasant village where you can explore the different lifestyles of the locals. It shows you a primitive village life that can decrease the pressure in modern city.

Drive to Vientiane from Vang Vieng about 3 hours. Upon arrival, enjoy your time at leisure to get acquaintance with this delightfully friendly city, the capital of Laos.
Day 8 Vientiane
( Breakfast )
Visit Wat Si Saket, built in the Siamese style of Buddhist architecture, with a surrounding terrace and an ornate five-tiered roof, rather than in the Lao style.

Pha That Luang is a gold-covered large Buddhist stupa, generally regarded as the most important national monument in Laos and a national symbol.

Head to Patuxai, which resembles the Arc de Triomphe in Paris. It is typically Laotian in design, decorated with mythological creatures such as the kinnari.
Day 9 Vientiane - Pakse & 4000 Islands
Transfer by air ( Breakfast )
Take the morning flight to Pakse from Vientiane.

On arrival, drive to Champassak and visit the fascinating pre-Angkorian ruins of Wat Phu, one of Southeast Asia's most dramatically situated temples. Explore these intriguing Khmer ruins, which are perched at the base of Mount Phu Kao.

Afternoon take the long tail boat to the 4000 Islands area, where you can enjoy the rest of the day at free proposal.
Day 10 4000 Islands - Khone Island & Khone Phapeng waterfull
( Breakfast )
After an early morning breakfast, explore Khone Island. Re-trace the French colonial-past at Ban Khone, where some old colonial houses still stand and glimpse the first Lao railway with its own locomotive.

Continue your exploration of the area of the 4000 islands by boat and visit the beautiful Liphi waterfall, also known as the Samphamith, which forms a natural border between Lao and Cambodia.

Return to Ban Nakasang and drive to the famous Khone Phapeng Waterfall - the largest waterfall in South East Asia, also known as the 'Niagara of the east'.
Day 11 4000 Islands - Pakse
( Breakfast )
This morning take the boat to Bolevean Plateau, which has cooler temperature and stands high above the Mekong Valley. The area is famous for its many waterfalls, and the most beautiful of these falls - Tad Fan waterfall, which is spectacular with twin waterfalls plummeting into a deep gorge surrounded by flourishing vegetation.

A trip to the plateau provides a refreshing break from the heat and allows you to observe the cultivation of rich coffee, tea, cardamom, bananas, and other crops that can be seen en route.

In the afternoon arrive at Tad Lo, home to another scenic waterfall and numerous ethnic minority groups. Visit the villages of Alak, Nge, and Katu before returning to Pakse.
Day 12 Pakse
Departure( Breakfast )
Enjoy your free time in Pakse until departure.
Package Details
Tour Package Includes:
Private transfer (air-conditioned vehicle) as listed in itinerary;

Entrance fee to all scenic spots listed in itinerary;

Local English speaking tour guide in each city as programmed;

3-star hotels with daily breakfast in each city as programmed;

Domestic Airfare and airport tax.
Tour Package Excludes:
International flights of arrival & departure;

Optional meals/attractions/activities/tours;

Travel assurance & Personal assurance
(Better to purchase on your own in your country);
Tips for tour guides and drivers;

VISA fees;

Personal expenses;

Others not mentioned.