Home > Laos Tour > Laos Attractions
Wat Xieng Thong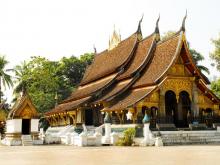 Wat Xieng Thong is one of the most important temples in the country of Laos remaining a significant monument to the spirit of religion, royalty and traditional art many legends.
Located in Luang Praabang of Laos, Wat Xieng Thong is one of the famous historical sites in the city. It was built around 1560 by King Setthathirat, a patron of Buddhism, who ruled Laos from 1548 to 1571.
Wat Xieng Thong has over twenty structures on the grounds including a sim, shrines, pavilions and residences, in addition to its gardens of various flowers, ornamental shrubs and trees.
It is a small building with a low sweeping roof of three tiers. The supporting columns are square and white washed. A broad staircase leads into the interior. At the sides are two pillars holding bronze lotus buds.
Recommended Tours with Wat Xieng Thong: 4 Days Laos Highlights Tour; 8 Days Laos Classic Tour; 12 Days Laos Discovery Tour.
Top Tours in Laos