Thailand Tour
As an emerging economy situated at the centre of the Indochina peninsula, Thailand, formerly known as Siam and regarded as "land of the free", is a wonderful destination for sightseeing, adventure and beachlife, as well as the strong religious atmosphere, just like the other countries in Indochina. The mountainous resources in the south and luxurious resorts in the north provide lots of spectacular scenes and exciting adventures in Thailand tour.
So, embark a journey to touch this diversified land. Indochinatourguide is pleased to offer great service in your Thailand Tour.
Thailand Cities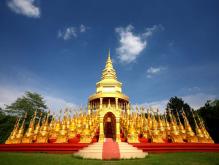 Divided into 5 groups of provinces by location with 2 special governed districts – capital Bangkok and Pattaya, Thailand cities have their unique sides that many of them become hot travel destinations.
Things to Do in Thailand
Abundant travel resources and various cultural products make Thailand an immense playground. Multifaceted personality endows this country with overwhelming charm. Walking to the tall skyscraper through immemorial golden Buddhist stupas, capping off a seaside tour with a visit to a 100-year-old village, starting a forest exploration at the end of an extended cruise plying a river, or getting lost in multifarious nightlife far away from sober stroll, will leave you a memorable Thailand tour.
Thailand Food (Thai Cuisine)

Do not miss Thai food in your Thailand tour. It features spiciness, aroma and complex components devoted to the balance of taste with detailed and various cooking methods that gives you an extraodinary taste.