Home > Laos Tour > Laos Attractions
Pak Ou Caves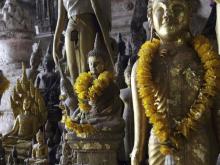 Pak Ou Caves is a well known Buddhist site and a place of pilgrimage, famous for their miniature Buddha sculptures. Hundreds of very small and mostly damaged wooden Buddhist figures are laid out over the wall shelves, in many different positions, including meditation, teaching, peace, rain and reclining (nirvana).
Pak Ou Caves has been used for centuries as a repository for old or disfigured Buddha images. Pak Ou Caves refer to the set of cave system located at the confluence between the Mekong River and Nam Ou River. To the locals it is Tam Ting Caves, which means "Caves of a thousand Buddhas."
Pak Ou stairs connect a second, deeper cave known as Tham Phum. Outside Pak Ou Caves is the impressive sight of a steep cliff falling sharply into the Nam Ou. Boat is the best way to go even though it does take nearly an hour (or more if the river is low) to make the trip up river.
Recommended Tours with Pak Oo Caves: 4 Days Laos Highlights Tour; 8 Days Laos Classic Tour; 12 Days Laos Discovery Tour.
Top Tours in Laos