China Tour
Various natural masterpieces and over 5,000-year-old history have been painted on the land of China. Once opening this scroll, you will fall in love with the countless spectacular sceneries, abundant dazzling civilization and 56 colorful ethnic groups. Even now the developing China still keeps weighing heavily on the consciousness of all who step into this colorful world.
It is an endless process of recognition, as it owns all-embracing lures that are worth exploring by your own self. Indochinatourguide is pleased to offer great service to build a unique China tour for you.
China Cities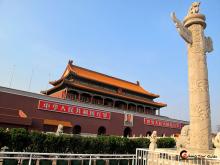 China is made up of 23 provinces, 5 municipalities, 4 autonomous regions and 2 SARs, in possession of numerous cities with distinctive appearance and unique culture & customs, which make China tour become more popular.
Things to Do in China
You will never feel boring in China, as it has rich tourist resources, not only for sightseeing, but also for participating, including river cruises, traditional shows, volunteer experiences, amusement parks and so forth. Whatever you choose to join in, you can find out your unique Chinese elements depicted in fantastic and distinctive way, which will highlight your China tour with an interesting memory.
China Food

The variety of China food is due to different geographic regions. Rice is the main staple of southern area while noodles dominate the northern part. The countless featured specials and snacks are also must-taste for food lovers.