Vietnam Tour
Vietnam is a country full of captivating natural beauty and tranquil village life. Watching the workers with conical hats walking across the rice terraces and white sand beaches, cruising on the fascinating Halong Bay and Mekong Delta, teaming with new species and exotic wildlife in rain forest and islands, savoring the Vietnam cuisines with lingering after-taste...You will be immersed in a colorful world in the unique Vietnam tour.
So spend your time admiring it. Indochinatourguide is pleased to offer great service in your Vietnam Tour.
Vietnam Cities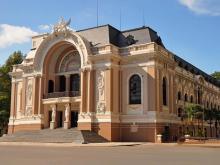 Vietnam boosts the immense beauty and geographical diversity enriched with abundant western and eastern features. Unfolding each city's charm in your Vietnam tour is an interesting challenge.
Things to Do in Vietnam
In possession of fancy fragments of tradition and culture like the colorful paper and glass of kaleidoscope, Vietnam catches your eyes with a great diversity of activities that give you memorable experience. It is a mixture of its own distinctive minority culture, petty bourgeoisie taste, simple village atmosphere and comfortable river lifestyle as well as cozy oceanic entertainment, etc., which may become a twinkling memory in the Vietnam tour.
Vietnam Food

The local food is certainly must-taste in Vietnam tour, among which spring rolls and bread rolls are world-famouse for food lovers, with rice, noodles, fresh vegetable and herbs that make it one of the healthiest cuisines in the world.