Bhutan Tour
Bhutan, officially the Kingdom of Bhutan, is a secret place hidden behind the Himalayas, where ancient Buddhist traditions hit the diversified modern elements. In this landlocked place dominated by religion, although Bhutanese live in a backward condition, they enjoy their lives more happily than those of many other developed countries. What's the main factor to result in such kind of contrast? Only experiencing it by yourself can give you a real appearance and a deep understanding.
Use your eyes to discover the essence of this miraculous country. Indochinatourguide is pleased to offer great service for you to gain in-depth knowledge in your Bhutan Tour.

Bhutan Cities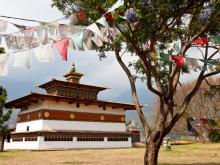 Cities in Bhutan developed slowly with a small population. It is divided into four districts and 20 dzongkhags. The capital Thimphu is the largest city and the hottest destination in Bhutan tour.
Things to Do in Bhutan
The best way to experience Bhutan is to take part in the local activities. It touches you with the unadorned pattern of manifestation, filled with admiration for religion and compliance of traditional customs, which reflects the hospitality and simplicity of Bhutanese. Especially in the festivals, the close contact with local people and many interesting activities such as marked dances, dramatic performances etc., will bring you a fantastic Bhutan tour.
Bhutan Food

Red rice, buckwheat and maize are dominating in Bhutan cuisine which is made in simple cooking method to gain a delicious taste. The national dish - peppers and cheese is must-taste in Bhutan tour, so are specialties such as buttered tea.