Cambodia Tour
Cambodia is home to the eighth wonder of the world - Angkor Wat, a miraculous masterpiece blending with spirituality, symmetry and symbolism. With the buzzing capital of Phnom Penh, Cambodia also boasts the long coastline with unspoiled tropical beaches, the mighty Mekong River, distinctive culture and custom, as well as the super-friendly locals.
Welcome to the enigma that is Cambodia: a country with an inspiring and depressing history, an intoxicating place with many wonders. Indochinatourguide is pleased to take you to grab a genuine Cambodia tour.

Cambodia Cities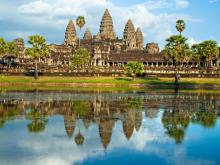 With unrivalled Angkor Wat highlighting the Cambodia tour, the nation is optimistic to hug a growing boom as an international destination. The most popular city is Siem Reap, as the gateway to Angkor wonders.
Things to Do in Cambodia
Cambodia impresses its visitors with the world heritage Angkor Wat and Khmer culture, yet Cambodia is more than that. Take some other activities, or if you come during some festival time, you may experience a real and live Cambodia tour that is out of your imagination and will be engraved in your memory.
Cambodian Food (Khmer Cuisine)

Savoring the national dishes will impress you with an unique Cambodian twist. Some are similar to those of neighbouring Thailand and Laos, others closer to Chinese and Vietnamese cooking.