Home > Laos Tour > Laos Attractions
Plain of Jars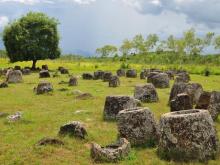 Plain of Jars is one of the most prominent and popular sites in Xiang Khouang, consisting of urns of large stone of height varying from 1–3 metres, scattered in the landscape of the Xieng Khouang platea.
These stone jars appear in clusters, ranging from a single or a few to several hundred jars at lower foothills surrounding the central plain and upland valleys.
Dated to the Iron Age (500 BCE to 500 CE), Plain of Jars is one of the most fascinating and important sites for studying Southeast Asian prehistory.
Plain of Jars has the potential to shed light on the relationship between increasingly complex societies and megalithic structures and provide insight into social organization of Iron Age Southeast Asia's communities. To visit the jar sites one would typically stay in Phonsavan.
Recommended Tour with Plain of Jars: 12 Days Laos Discovery Tour.
Top Tours in Laos