Home > Laos Tour > Laos Attractions
Luang Prabang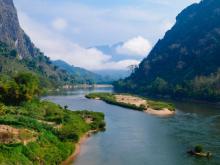 If there is only one place to travel, Luang Prabang is your best option, regarded as "the last paradise of dreamers", and the best-preserved city in Southeast Asia.
Located in north central Laos, Luang Prabang is the capital of Luang Prabang Province, which was listed as a UNESCO World Heritage in 1995. One of the featured scenes in this ancient and beautiful city is to view the mendicant Buddhist monks of many temples. People kneeling on the streets give them donation, which is really incredibly touching and yearning.
Up to now Luang Prabang still preserves a kind of primitive simplicity with lots of scenic interests and some antiquated manual workshops that make it a leisure place for urban tourists to relax. The most famous attractions are Wat Xieng Thong, Kuang Si Waterfall, Pak Oo Caves, etc.
Recommended Tours with Luang Prabang: 2 Days Elephant Camp Experience Tour; 3 Days Seuang River Home Stay Experience Tour; 8 Days Laos Classic Tour; etc.
Top Tours in Laos