Home > Indochina Tours
9 Days Bhutan Discovery Tour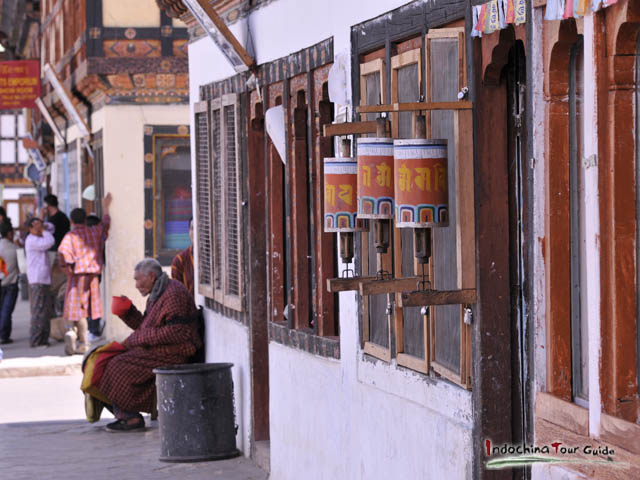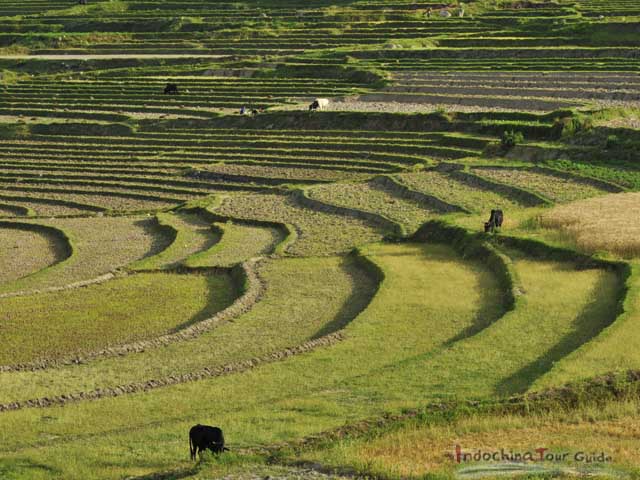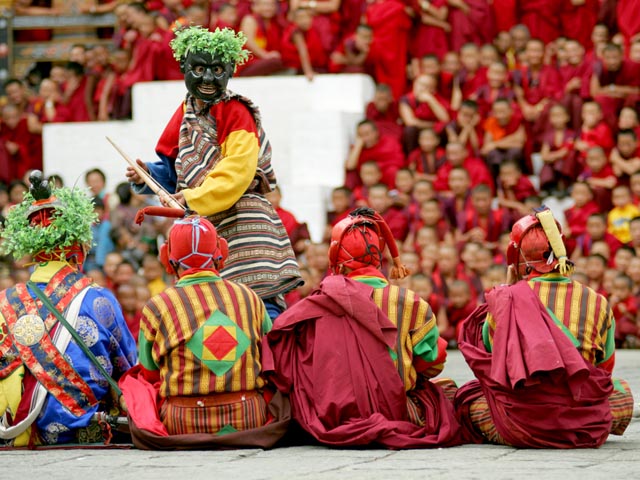 Tour Highlights
Bhutan Discovery Tour

Paro

Thimphu

Punakha

Phubjikha

Trongsa

Bumthang
Daily Itinerary
Upon arrival at the Paro airport, you will be greeted with hospitable reception and escorted to Thimhpu, Bhutan's capital city, by coach about 1.5 hours. En route, you will see the exquisite stupas of three religions lining alongside exactly on the focal point where Paro River and Thimphu River converge into one that flows out to the Indian River.

After checking in hotel for a break, head to 13 Art and Craft School to appreciate the forming process of Bhutan's traditional art crafts. Drive to visit Tashichho Dzong, the capital Dzong and the office of King and the religious head "JeyKhenpo". Then feast on the funny evening scenic drive to Takin Reserve, a wildlife reserve area for takin, the national animal of Bhutan.

You can enjoy the free time at leisure or wander round the local craft market, where you will find local authentic crafts from all over Bhutan. Spend your nightlife at Thimphu.
An exciting day will begins with a drive through a forest of pine and hemlock, festooned with hanging lichens high upon Dochula Pass, where you can feast your eyes on a spectacular panoramic view of the Himalayan mountain ranges while descending along the curve roads to the fertile Punakha Valley.

Next take a walk to Chimi Lakhang, a temple on a small hill top dedicated to the great yogi in 14th century known as Drukpa Kuenly or popularly known as "Divine Madman". Stay overnight at Punakha.
After breakfast, Punakha Dzong, known as the "Palace of Great Happiness" situated between the Pho Chu and Mo Chu Rivers, will be your first stop of this day. Continue to the central valleys of Bhutan to appreciate the breathtaking beauty and serenity of Bhutan's rich flora and fauna.

Then pass Wangdi Dzong (fortress) through semi-tropical vegetation up to Pele La Pass, where you may spot a yak grazing along the roadside. Bright with beautiful rhododendron flowers and dark green dwarf bamboo, the sacred Mount Jomolhari and Chendebji Chorten await your appreciation. As you enter Trongsa Valley, the huge fortress of Trongsa Dzong on the far side of a deep valley, will make you wonder if you ever reach it.
Morning tour the spectacular Trongsa Dzong, perched so high on a mountain that it's said the clouds float below it. Continue on our journey and you will see the road rising rapidly through a series of hair-pin bends up to Yotong La Pass at 11,200 feet. Enjoy the colorful, quiet peace of the pass with its many prayer flags fluttering in the breeze.

Drive downhill to arrive at the Chumey Valley. At Tsugney village, you'll witness traditional Yathra weaving with the bright geometric patterns distinctive of this area. Once made from Tibetan wool, some wool now comes from local sheep. A local shop offers old and new textiles for sale. Then head to Choekhor Valley, where Jakar Dzong, known as the castle of the white bird, stands above Bumthang.
Day 5 Bumthang - Phobjikha
We will spend the day sightseeing in and around Phobjikha, climbing up and passing through semi-tropical dwarf bamboo and the blush of many colored rhododendrons. Arrive at the broad glacial valley of Phobjikha which is the chosen winter roosting home of the rare Black Necked Cranes. Endangered cranes leave the Tibetan plateau for Bhutan each winter and return home early spring. By legend, they are reincarnated sacred souls of Lamas that come to pay homage to the nearby monastery of Gangtey Gompa and help other souls to enlightenment. It's said that the cranes circle the Monastery three times before landing in the wetlands below when they first return.

Stay overnight in the quiet valley of Phobjikha.
Day 6 Phobjikha - Thimphu
Enjoy a 2-hour hike past small villages and through Rhododendron forest. You will be impressed by the picturesque landscapes alongside and immersed into the pleasures of hiking. Within a few miles, vegetation transforms once more to pines, rhododendron and fir, which offers a visual feast and leisure entertainment for you. You are sure to spot Grey languor, brown monkey and lots of bird species by the trail. It is a good chance to explore the nature of Phubjikha and savor the local customs.

Then your van will pick you up and drive to Thimphu via Dochula Pass.
The day starts with the visit of the National Memorial Chorten (Shrine), a monument dedicated to the third Bhutan king and a prominent landmark in the city with its golden spires and bells. Traditional Painting School is also a must-see in the tour which is a school for Bhutan's 13 traditional arts and crafts, so as the National Library where ancient scrolls are preserved.

Visit Textile Weaving that worth a visit to get to know the living national art of weaving. After that you can stroll around the street of Thimphu to appreciate the city view and folk customs as you want.
Early drive to Paro's upper valley. On a clear day you'll have an unforgettable view of the Goddess" Mt.Chomolhari at 23,640 feet.

Afterward, it's a short drive to trail head. Hike to Taksang Monastery, the most famous monastery in Bhutan. Taksang means "Tiger Nest" so named because Guru Rinpoche reportedly flew to the site on the back of a flying tiger early 8th century. Between blue pines and a bluer sky, the monastery perches miraculously on a cliff nearly 2,700 feet above Paro's valley floor. Light butter lamps, Break along the way for tea and snacks in small tea house. Descend in distilled afternoon light to eat a delicious dinner and overnight at Paro.
After breakfast, you will be transferred to the airport. Say goodbye to Bhutan and head to your next destination.
Package Details
Tour Package Includes:
Private transfer (air-conditioned vehicle) as listed in itinerary;

Entrance fee to all scenic spots listed in itinerary;

Local English speaking tour guide in each city as programmed;

3-star hotels in each city as programmed.
Tour Package Excludes:
International flights of arrival & departure;

Optional meals/attractions/activities/tours;

Travel assurance & Personal assurance
(Better to purchase on your own in your country);
Tips for tour guides and drivers;

VISA fees;

Personal expenses;

Others not mentioned.