Home > Bhutan Tour > Bhutan Attractions
Jungshi Handmade Paper Factory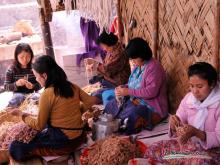 A very important part of Bhutanese culture and tradition is handmade paper making. Historically paper has been made to provide Buddhist monasteries with paper for woodblock and manuscript books, and for writing prayers and mantras. Today handmade paper making continues to preserve and promote this age-old tradition, as well as to create many other products, such as stationery and greeting cards.
This factory was originally established by the Bhutanese government, and later was privatized under the sole proprietorship of Mr. Norbu Tenzin, who was trained in Japan "for high quality and designing of Bhutanese traditional handmade paper." The word Jungshi means "natural." Raw materials, supplied from bark from two trees, are used to make the paper. The Daphne Papyri grown at an attitude of 1500 feet and below produces a strong, dark paper. The Edgeworthia Papyri found at higher altitudes of 3000 feet and above, produces a whiter, more fragile paper.
Nature provides other flora as ingredients, like flowers, leaves, and fern leaves, which make decorations on the paper. Paper making is done without any environmental harm to the land, and without the use of chemicals.
Top Tours in Bhutan