Home > Bhutan Tour > Bhutan Attractions
Paro Taktsang (Tiger Nest)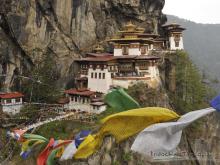 Also known as Taktsang Monastery or Tiger Nest, Paro Taktsang, is a splendid Himalayan Buddhist sacred site and temple complex, located in the precipitous cliff-side of the upper Paro valley at an elevation of about 3,000 meters. First built in 1692, it is the best known of the thirteen Taktsang (Tiger Lair) caves, in memory of Guru Padmasambhava (the Second Buddha) who is said to flow to this location from Tibet on the back of a tigress from Khenpajong.
Seated on the right side of Paro Chu (River) with steep rock slopes, Paro Taktsang is built into rock face which is so precariously perched and looks very formidable as if it clings to the side of the mountain like a gecko. You can access it through the northwest forest, the north rock plateau, or the south path used by devotees, etc. Standing on the Lakhang or Urgyan Tsemo Temple on the way, you will be shocked by the panorama of Paro Valley. The trek beyond this point is very scenic with grand waterfall, numerous temples, blue pine trees, prayer flags, etc. There are a few rickety wooden bridges along the paths and stairways also to cross over.
Interconnected through steps and stairways made in rocks, the buildings of Taktsang Monastery consist of four main temples and residential shelters ideally designed for adapting to the granite ledges, the caves and the rocky terrain. The temple at the highest level has a frieze of Buddha. The Guru mTshan-brgyad Lhakhang temple devoted to Padmasambhava is an elegant structure built around the cave in 1692 and has become the cultural icon of Bhutan.
Top Tours in Bhutan