Home > Vietnam Tour > Vietnam Attractions
Cu Chi Tunnels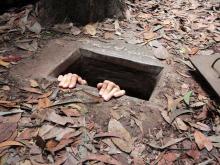 The tunnel network of Cu Chi, one district of Ho Chi Minh City (Saigon), is a legendary during the 1960s for its role in facilitating Viet Cong control of a large rural area only 30km to 40km from HCMC. Cu Chi Tunnels are an immense network of connecting underground tunnels and part of a much larger network of tunnels that underlie much of the country.
For the Viet Cong, life in the tunnels was very difficult. Air, food and water were scarce and the tunnels were infested with ants, poisonous centipedes, scorpions, spiders and vermin. Most of the time, soldiers would spend the day in the tunnels working or resting and come out only at night to scavenge for supplies, tend their crops, or engage the enemy in battle. The network, parts of which were several storeys deep, included innumerable trap doors, specially constructed living areas, storage facilities, weapons factories, field hospitals, command centers and kitchens. It played an important role during the wartime in Vietnam.
Nowadays, Cu Chi Tunnels become a very popular tourist attraction in Vietnam. The 75-mile (121 km)-long complex of tunnels at Cu Chi has been preserved by the government of Vietnam and turned into a war memorial park. Visitors are invited to crawl around in the safer parts of the tunnel system. Some tunnels have been made larger to accommodate the larger size of Western tourists. Above-ground attractions include caged monkeys, vendors selling souvenirs, and a shooting range where visitors can fire a number of assault rifles.
Top Tours in Vietnam