Home > Vietnam Tour > Vietnam Attractions
Halong Bay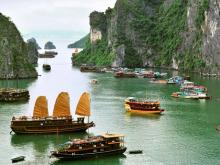 Halong Bay is made of 1,969 islands of various sizes, 989 of which have been given names. There are 2 kinds of islands, limestone and schist, which are concentrated in 2 main zones: the South East (belonging to Bai Tu Long Bay) and the South West (belonging to Ha Long Bay). This densely concentrated zone of stone islands, world famous for its spectacular scenery of grottoes and caves.
Halong Bay was first listed as a UNESCO World Heritage Site in 1994, in recognition of its outstanding, universal aesthetic value. In 2000 the World Heritage Committee additionally recognized Halong Bay for its outstanding geological and geomorphological value. Hence Halong Bay is twice granted World Heritage status for a reason: It is really that picturesque. The trademark emerald green water and 3,000 islands of towering limestone are worth your visit. Visitors to Halong Bay come to explore the caves and to hike in Cat Ba National Park.
The name of Halong Bay means "the bay where the dragon descends into the sea". As the No.1 tourist attraction in the northeast Vietnam, it attracts a steady stream of visitors year-round. From February to April , the weather in Halong Bay is drizzly and cool. And there are some storms happened in Halong Bay during summer time that visitors should alter their tour plan.
Recommended Tours with Halong Bay: 3 Days Hanoi - Halong Bay Leisure Tour; 10 Days Vietnam Impression Tour; 15 Days Vietnam Overland Tour with Leisure Cruise; etc.
Top Tours in Vietnam