Home > Vietnam Tour > Vietnam Attractions
White Sand Dunes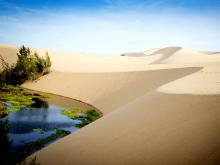 The White Sand Dunes outside of Mui Ne are one of Vietnam's charming geological oddities. They extend along the peaceful Mui Ne Beach in Phan Thiet of Vietnam, near a fishing village at the tip of Mui Ne Peninsula.
Decorated by swaying palm trees, the White Sand Dunes have been a favorite subject matter for many a Vietnamese photographer. As long as you face the right direction, the White Dunes resemble a miniature desert with beautiful patterns etched into the ever-changing sand by the wind. Some of them even sit like camels on the blazing hot sand for hours, waiting for the winds to sculpt the dunes into that perfect moment.
Although most people visit the White Dunes on a tour, getting there yourself is pretty straightforward. Going at your own pace affords you time to really appreciate the area, have a picnic, wipe out a few times sledding down the hot slopes, and make an interesting day away from the beach.
Recommended Tours with White Sand Dunes (Mui Ne): 6 Days Saigon - Mui Ne - Dalat - Nha Trang Exploration Tour; 15 Days Vietnam Discovery Tour; 16 Days Vietnam Vacation Tour; etc.
Top Tours in Vietnam