Home > Vietnam Tour > Vietnam Attractions
Cat Cat Village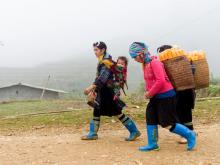 Located in 2km from Sapa Townlet in Northwest Vietnam, Cat Cat Village is an age-old village of H'Mong ethnic group remaining unique customs and practices that are lots in other villages.
Since migrating from China in the 19th century, the H'mong have grown to become one of the largest and most underprivileged of the ethnic groups in Vietnam. They cultivate dry rice, vegetables, fruit and medicinal plants, and raise cows, chickens, pigs and horses. There are several groups within the H'mong, including Black, White, Red, Green and Flower, each of which bears its own subtle variation on traditional dress. One of the easiest to recognize are the Black H'mong, who wear indigo-dyed linen clothing with women typically wearing skirts, aprons, wrap-on leggings and cylindrical hat. H'mong women typically wear large silver necklace and clusters of silver bracelets and earrings.
Recommended Tours with Cat Cat Village: 4 Days Hanoi - Sapa Trekking Tour; 14 Days Vietnam Mystery Tour; 15 Days Vietnam Discovery Tour; etc.
Top Tours in Vietnam