Home > Laos Tour > Laos Attractions
Wat Xieng Khuan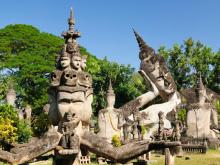 Wat Xieng Khuan, also called Buddha Park, is famous for its numerous religious images. Located about 25km southeast from Vientiane along the mighty Mekong River, right next to the Thai-Lao border, Wat Xieng Kuan attracts lots of tourists with over 200 Hindu and Buddhist statues in different shape and size.
These statues are made of reinforced concrete and are ornate, and sometimes bizarre, in design. Many characters of them come from Buddhist beliefs like Avalokitesvara, and also from Hindu lore, including Shiva, Vishnu, and Arjuna.
One of the attractive sculptures resembles a giant pumpkin with three stories representing three levels - Hell, Earth and Heaven. You can enter through the opening and climb staircases from hell to heaven. At the top, there is a vantage point where the entire park is visible.
Top Tours in Laos