Home > Laos Tour > Laos Attractions
Wat Phu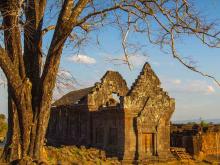 Dedicated to the Hindu deity of Shiva, Wat Phu, or Vat Phou, is a ruined Khmer temple complex in in Champasak province, southern Laos.
Situated at the base of mount Phu Kao, Wat Phu is a center of Theravada Buddhist worship. It offers a spectacular panoramic view of the extensive land and the mighty Mekong Delta. Wat Phu was listed as a World Heritage Site by UNSECO in 2002.
Wat Phou was a part of the Khmer empire, centered on Angkor to the southwest, at least as early as the reign of Yashovarman I in the early 10th century. Like most Khmer temples, Wat Phou is orientated towards the east. You can appreciate the magnificent workmanship in this temple, such as pillar, lintel, terrace, sanctuary, library, palace, etc.
Top Tours in Laos