Home > Laos Tour > Laos Attractions
Tham Sang Triangle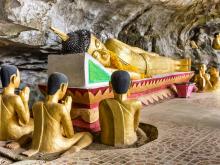 Tham Sang Triangle is relevant to a group of four caves which stand closely with each other, located in the north of Vang Vieng. The four caves are Tham Sang, Tham Hoi, Tham Loup, and Tham Nam.
One of the four caves, Tham Sang Cave, whose name means "Elephant Cave", is a small cavern housing some Buddha images and a Buddha 'footprint', as well as elephant-shaped stalactite that gives the cave its name. The best time to visit Tham Sang Cave is in the morning when sunshine enters the cave.
Considered the most sacred to locals, Tham Hoi Cave is home to a larger Buddha head in the entrance of Tham Sang Triangle, while Tham Loup Cave is famous for its stalactites. In the south of Tham Hoi Cave stands Tham Nam Cave, whose name means "water cave".
Top Tours in Laos