Home > Cambodia Tour > Cambodia Attractions
Phnom Bakheng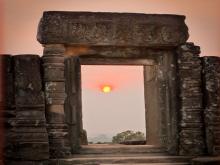 Located atop a hill and just opposite the main Angkor Wat temple, actually Phnom Bakheng is a Hindu temple in the form of a temple mountain. It is a very old temple tracing back to the end of 9th century. Phnom Bakheng has five tiers with seven levels, each of which has four towers at the cardinal points of the compass as well as a central sanctuary. All of these numbers are of symbolic significance. For instance, the seven levels represent the seven Hindu heavens, while the total number of towers is 108, a particularly auspicious number.
Nowadays, a large number of visitors rushes to Bakheng Hill to capture the beautiful sunset views combined with a bird's view of Angkor Wat everyday. For doing this, you start with a good trek for about 500 - 700 meters uphill. You'd better go up early to occupy a best spot to prepare your camera and wait for the amazing moment of sunset.
Recommended Tours with Bakheng Hill: 2 Days Angkor (Siem Reap) Succinct Tour; 7 Days Cambodia Highlights Tour; 8 Days Cambodia Exploration Tour; etc.
Top Tours in Cambodia