Home > Cambodia Tour > Cambodia Attractions
Tonle Sap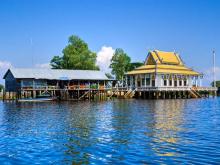 As the largest freshwater lake in Southeast Asia, Tonle Sap is of significance to Cambodia, located in the north of the country. The Plain of Tonle Sap Lake is over 500km long and 110km wide, crossing the land to meet with Mekong River.
As a giant green jade embed in the land, Tonle Sap Lake provides rich resources to support the development and prosperity of Cambodia. Regarded as "The Lake of Life", it was designated as a UNESCO biosphere in 1997. The abundance of resources in Tonle Sap results in the development of fishing industry and the high production of rice. And it's also a hot tourist destination in Cambodia.
Tonle Sap Lake is relatively small in most of the year, just an area of 2,700km2 and 1m deep. It increases its area to approximately 16,000km2 with a depth of 9m when water is pushed up from the Mekong into the lake, This expansion floods the nearby fields and forests, providing a great breeding condition for fish.
Recommended Tours with Tonle Sap: 5 Days Angkor (Siem Reap) Discovery Tour; 6 Days Cambodia Discovery Tour; 8 Days Cambodia Exploration Tour; etc.
Top Tours in Cambodia