Home > Cambodia Tour > Cambodia Attractions
Bayon Temple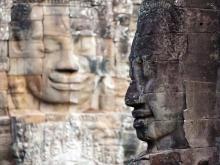 Standing at the center of Angkor Thom, Bayon Temple was built in the late 12th century or early 13th century, during the reign of great King Jayavarman VII.
Bayon Templeis a place of stooped corridors, precipitous flights of stairs and a collection of 54 Gothic-style towers decorated with 216 smiling, enormous faces that glare down from every angle, exuding power and control with a hint of humanity. Though Bayon is less famous than neighboring Angkor Wat, the temple is often the attraction that sits in the heart of visitors to Angkor.
When you take a walk around, a dozen or more of incredible carved heads are visible at any one time, full face or in profile, almost level with your eyes or starting down from up high. There is still much mystery associated with Bayon, such as its exact function and symbolism, etc.
Recommended Tours with Bayon Temple: 3 Days Angkor (Siem Reap) Essential Tour; 6 Days Cambodia Discovery Tour; 10 Days Cambodia Experience Tour; etc.
Top Tours in Cambodia