Home > Cambodia Tour > Cambodia Attractions
Royal Palace & Silver Pagoda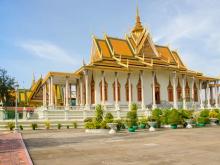 As the top attraction in Phnom Penh, Royal Place is a striking structure near riverfront of Tonle Sap River. As the official residence of King of Cambodia, parts of the massive compound are closed to the public. It is well worth the effort to go and see what you are allowed to see.
In Royal Palace, Coronation Hall (from the outside and looking in), the Silver Pagoda and a few more adjacent buildings can be visited. However, photography is not permitted inside many buildings.
Silver Pagoda sits in the heart of permitted visiting area, in where you can see full of treasures, if you are interested in the history or culture of Cambodia, here is the right place.
Also many other exhibitions are opening to visitors, the royal dance costumes, (which includes some of the royal dinner sets and silver ware), the royal palanquins & The Royal Elephant Seats.
Recommended Tours with Royal Palace & Silver Pagoda: 5 Days Cambodia Classic Tour; 7 Days Cambodia Highlights Tour; 8 Days Cambodia Exploration Tour; etc.
Top Tours in Cambodia