Home > Cambodia Tour > Cambodia Attractions
Angkor Wat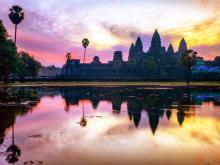 Angkor Wat is a stunning, sprawling landmark of Cambodia, it is regarded as a triumph of ancient engineering and an awe-inspiring masterpiece of architecture. Undoubtedly Angkor Wat is widely believed to be the largest religious building in the world, so it has become the centerpiece of any visit to the temples of Angkor.
Angkor Wat is the largest and the mother of all Khmer temples, occupying a 3.6 kilometer moat and featuring a massive three-tiered pyramid, which is crowned by five lotus-like towers rising about 65 meters from ground level. The magnificence of the Angkor Wat is beyond words, given that its name means 'temple that is a city', Angkor Wat is undoubtedly the most breathtaking of the monuments at Angkor. Visitors are easily struck by its imposing grandeur and, at close quarters, and its fantastic decorative flourishes and extensive bas-reliefs. Angkor Wat is famous for its beguiling apsaras (heavenly nymphs). There are more than 3000 different apsaras carved into the walls of Angkor Wat.
Recommended Tours with Angkor Wat: 5 Days Angkor (Siem Reap) Discovery Tour; 6 Days Cambodia Discovery Tour; 10 Days Cambodia Experience Tour; etc.
Top Tours in Cambodia