Home > Cambodia Tour > Cambodia Attractions
Ta Prohm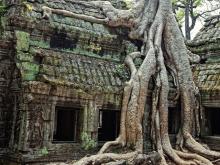 Unlike the other temples of Angkor, most of areas of Ta Prohm have been swallowed by the jungle, and reflected the power of nature. The classic image of Ta Prohm is a temple ruin intertwined with jungle creepers, which is the famous setting for Hollywood movie Tomb Raider.
Ta Prohm was a Buddhist temple dedicated to the mother of Jayavarman VII, and built from 1186 and originally known as Rayavihara (Monastery of the King).
Ta Prohm is a temple of towers, including closed courtyards and narrow corridors. But many of the corridors are impassable, as clogged with jumbled piles of delicately carved stone blocks dislodged by the roots of long-decayed trees. It used to be possible to climb onto the damaged galleries, but it is now prohibited for protecting both temple and visitors.
Ta Prohm is the adventurous area of Angkor, and offers visitors a wonderful chance to feel like Lara Croft for the day.
Recommended Tours with Ta Prohm: 5 Days Angkor (Siem Reap) Discovery Tour; 7 Days Cambodia Highlights Tour; 10 Days Cambodia Experience Tour; etc
Top Tours in Cambodia