Home > Indochina Tours
12 Days Southern Vietnam and Cambodia Siem Reap Tour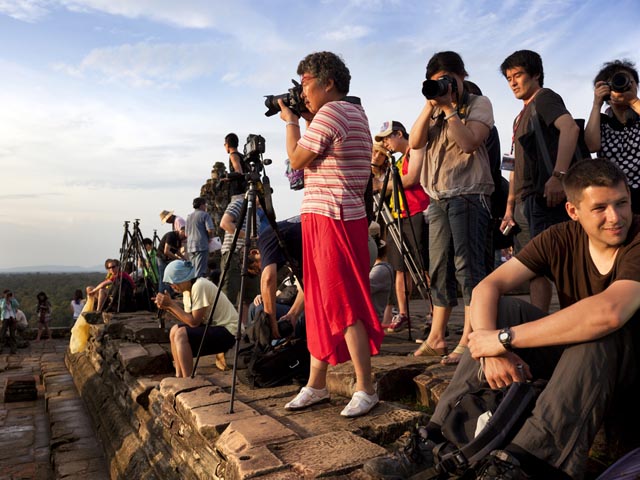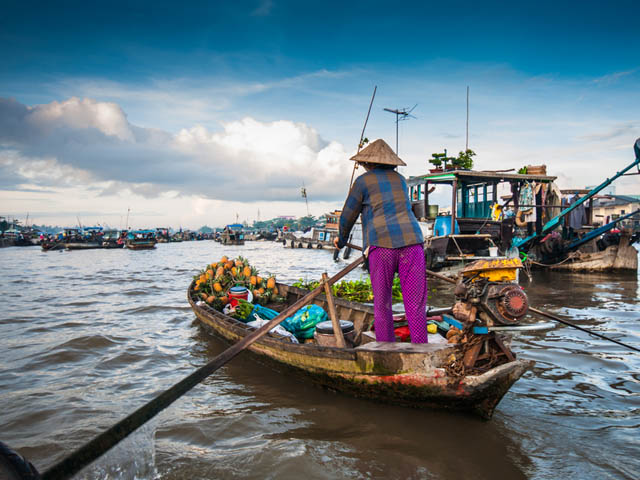 Tour Highlights
Mekong Delta
Countryside Resort
Beach
Angkor Wat
World Heritage
Daily Itinerary
Upon arrival, our local guide will pick you up at airport and escort you to downtown.

The Reunification Palace, formerly known as Independence Palace, will be your first stop in your tour, which was the home and workplace of the President of South Vietnam during the Vietnam War. Then head to the Central Post Office that boasts a fancy Gothic architectural style, and the spectacular Notre Dame Cathedral, one of the remains in the invasion period that houses a Madonna and two bell towers reaching a height of 58 meters. You can spend your free time at Ben Thanh Market famous for local handicrafts, textiles, ao dai, souvenirs and local featured cuisine. Stay overnight in Saigon.
Next day we will drive to My Tho to explore the charming Mekong Delta by boat. You can appreciate the floating-fish cages, enjoy fruit in the garden, listen to the fair-sounding folk music, and learn about Dao Dua, a kind of religion of Mekong Delta. Immerse yourself into an interesting horse-cart tour on the roads of village, and a visit of some local houses to experience the local customs.

Then drive to downtown Saigon.
Take the morning flight to Dalat from Hochiminh (Saigon) about 50 minutes. After a break, we shall visit the national historical monument - Dalat Railway Station, designed by French architects Moncet and Reveron, in the Art Deco architectural style on roofs, arching ceiling, and colored glass windows. On the way to Prenn Hill, you can appreciate the Truc Lam Temple near the Tuyen Lam Lake and Phuong Hoang Hill, which offers picturesque scenery to feast your eyes.

After that you will be amazed by the crazy house - Hang Nga Guesthouse, like a giant banyan tree in shape, incorporating sculptured design elements representing natural forms such as animals, mushrooms, spider webs and caves. Then enjoy an easygoing rural life in Lat Village: dance with Co Ho Minority, drink Can Wine, etc.

Spend your free time around the exotic ancient town.
Day 6-7 Dalat drive to Mui Ne
We spend the day sightseeing in and around Mui Ne. White Sand Dunes, the white lake, is a miracle of nature. It resembles a miniature desert with beautiful patterns etched into the ever-changing sand by the wind, when you face the right direction.

Spend your seashore time in popular Mui Ne Beach, a popular tropical beach world-known for the strong sea breezes that offers kitesurfing, windsurfing, etc., for adventurous tourists. Also staying on the beautiful beach to enjoy sunshine, taste the local featured food and relax your entire body will give you more pleased experience in your memory.
Day 8 Mui Ne take train to Saigon
This day we will escort you to Saigon by train and you will be offered a free daytime to sightsee in and around Saigon. Pham Ngu Lao Street is suggested for you to wander around full of elaborated art crafts, cheap featured clothes, DVDs, souvenirs, and war memorabilia, etc. You can explore one of the area markets to satisfy your shopping desire, or enjoy a cup of ice tea or a glass of beer in a bar, or savor Vietnamese food in a local restaurant. It is the heaven of backpackers.
Day 9 Saigon fly to Siem Reap & Angkor Wat
Morning we will fly to Siem Reap and check in the hotel. And this day will begin with the seventh wonder of the world - Angkor Wat, one of the most inspired and spectacular monuments ever conceived by the human mind. Soaring skyward and surrounded by a moat, it is a stunning fusion of symbolism, symmetry and spirituality, an enduring example of man's devotion to his gods.

Then appreciate the impressive sunset at Phnom Bakheng served a temple mountain of the first city of Angkor when the capital was moved from the previous center of Roluos. It is one the most popular activities in Cambodia tour. You will become one of the witnesses of this stunning picture and you can take a photograph to forever memorize it.
Day 10 Siem Reap - Angkor Thom
We will have the full day to immerse ourselves in the Siem Reap. Ankor Thom lies on the right bank of the Siem Reap River, with scenic river landscapes and towering walls, 8m high and flanked by a moat, each of which is 3km long, enclosing an area of 9km².

Then visit Bayon with the most distinctive feature that the multitude of serene and massive stone faces on the many towers jut out from the upper terrace and cluster around its central peak, and Ta Prohm, one of Angkor's most popular temples with visitors, which houses a photogenic and atmospheric combination of trees growing out of the ruins and the jungle surroundings.

Also, Preah Khan is waiting for your appreciation. It has been left largely unrestored, with numerous trees and other vegetation growing among the ruins. Known as "Citadel of Monks' cells, Banteay Kdei is on your visit-list which means "A Citadel of Chambers".
Day 11 Siem Reap - Tonle Sap
Visit Floating Village on the Tonle Sap which is one of the largest fresh water lakes in the world located 15km south of Siem Reap, swelling from 2,500km² to more than 12,000km² in the wet season. You can have a view on the lifestyle of Cambodian and know more about the local customs. Then you can be in charge of your free leisure time in the Old Market.
Enjoy your free time leisurely, then you will be transferred to the airport and continue to your next destination.
Package Details
Tour Package Includes:
Private transfer (air-conditioned vehicle) as listed in itinerary;

Entrance fee to all scenic spots listed in itinerary;

Local English speaking tour guide in each city as programmed;

3-star hotels in each city as programmed;

Daily bottle of mineral water;

Service charge and government tax.
Tour Package Excludes:
International & Domestic flights of arrival & departure;

Optional meals/attractions/activities/tours;

Travel assu

rance & Personal assurance
(Better to purchase on your own in your country);
Tips for tour guides and drivers;

VISA fees;

Personal expenses;

Others not mentioned.