Home > Indochina Tours
23 Days Best Indochina Tour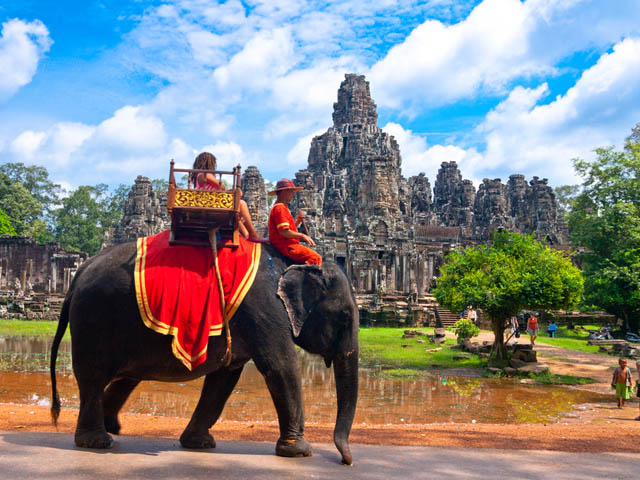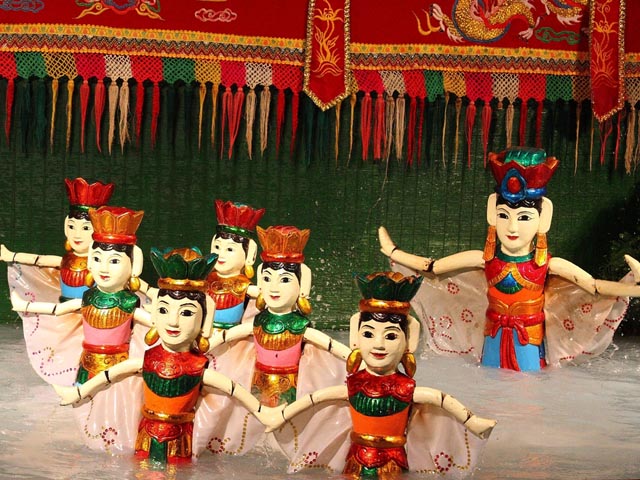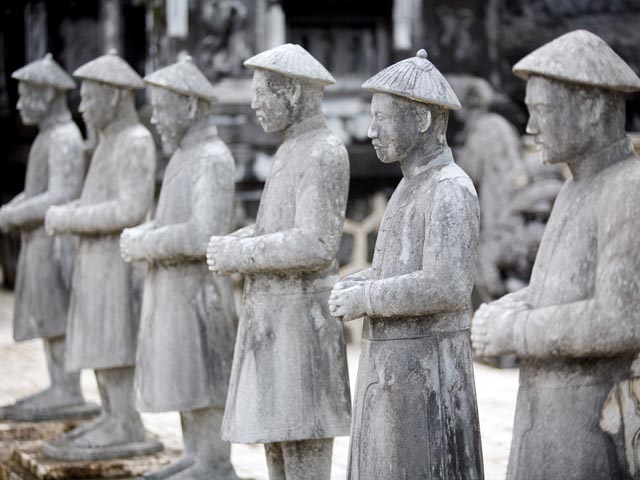 Tour Highlights
World Heritage

Indochina Full View

Ancient Capital

Landscape
Daily Itinerary
Meet you at airport, transfer to downtown to check in hotel for rest.
Day 2 Bangkok & Fullday City & Temples
This tour includes three of the most unusual Buddhist temples in Bangkok: Wat Trimitr with its invaluable Golden Buddha (5 ½ tons of solid gold) – Wat Pho, the most extensive temple in Bangkok, with its colossal Reclining Buddha and the Chedis of the Kings.

The Grand Palace is one of the most beautiful samples of an ancient Siamese court. It used to be the residence of the Kings of Thailand. Here you will see palaces which were used for different occasions: the Funeral Palace, the Reception Palace, the Throne Hall, the Coronation Hall, the Royal Guest House, and the beautiful Emerald Buddha Temple.

Visit Wat Phra Kaew, which is a royal chapel situated within the walls of the palace. Incorrectly referred to as a Buddhist temple, it is in fact a chapel; it has all the features of a temple except for living quarters for monks.

Wat Arun, is among the best known of Thailand's landmarks. The temple is so named because the first light of the morning reflects off the surface of the temple with pearly iridescence.

Free at Khaosan Road. Over night stay in Bangkok.
Day 3 Bangkok - Ayutthaya – Cruise down to Bangkok
Depart by air conditional mini-bus for Ayutthaya, the former capital city of Thailand.

Visit Bang Pa In Summer Palace, King Prasat Thong originally constructed the complex in 1632, and though it lay empty and overgrown throughout the late 18th and early 19th centuries, King Mongkut began to restore the site in the mid-19th century.

Wat Yai Chaimongkhol, a large Chedi of this Wat can be seen from a far distance. This monastery was built by King U-Thong in 1357 A.D. for the use of the monks who had returned from Ceylon after studying under Phra Vanarat Maha Thera.

And the ruins of the old Royal Grand Palace & Temples. Cruise down to Bangkok along the Chaopraya River where you can enjoy the rural Thai life along the river.

Return to hotel for leisure time. Over night stay in Bangkok.
Day 4 Bangkok - Siem Reap
Morning tour to The Damnoen Saduak Floating Market, situated 110 km west of Bangkok, which is a very attractive place for tourists to see the old style and traditional way of selling and buying fruits, vegetables, etc., from small boats. You will also see traditional Thai houses, the way they live and travel by boats.

Afternoon take the flight to Siem Reap.

Enjoy the sunset at Phnom Bakheng. Located at the top of hill, it is nowadays a popular tourist spot for sunset views of the much bigger temple Angkor Wat.
Day 5-6 Siem Reap - Angkor Wat
Angkor Wat, the temple is at the top of the high classical style of Khmer architecture. It has become a symbol of Cambodia, appearing on its national flag, and it is the country's prime attraction for visitors.

Ankor Thom lies on the right bank of the Siem Reap River. The south gate of Angkor Thom is 7.2 km north of Siem Reap, and 1.7 km north of the entrance to Angkor Wat. The walls, 8m high and flanked by a moat, are each 3 km long, enclosing an area of 9 km².

Bayon, the most distinctive feature is the multitude of serene and massive stone faces on the many towers which jut out from the upper terrace and cluster around its central peak.

Ta Prohm, the photogenic and atmospheric combination of trees growing out of the ruins and the jungle surroundings have made it one of Angkor's most popular temples with visitors.

Preah Khan, it has been left largely unrestored, with numerous trees and other vegetation growing among the ruins.

Banteay Kdei, meaning "A Citadel of Chambers", also known as "Citadel of Monks' cells.

Visit fishing village on the Tonle Sap, this village is located 15 kilometers south of Siem Reap which is one of the largest fresh water lakes in the world.
Free until take the flight to Saigon.
Day 8-9 Saigon & Mekong Delta
Visit The Reunification Palace, formerly known as Independence Palace, which was designed by architect Ngô Viết Thụ and was the home and workplace of the President of South Vietnam during the Vietnam War.

Central Post Office, has a Gothic architectural style. Notre Dame Cathedral, was constructed between 1863 and 1880. It has two bell towers, reaching a height of 58 meters.

"Free at Ben Thanh Market. Popular with tourists seeking local handicrafts, textiles, áo dài, and souvenirs, as well as local cuisine.

Explore to My Tho, take boat to explore Mekong Delta: floating-fish cages, enjoy fruit in the garden, listen to folk music. Take a horse-cart on the roads of village (2km).

Learn more about Dao Dua, a kind of religion of Mekong Delta. Visit some local houses to know more about their daily life.
Fly to Dannang and drive to Hoi An ancient town.

Visit Fukian Assembly Hall, which was built around 1690 and functions as a traditional assembly hall for the Chinese ethnic group from Fujian, China to socialise, but later was transformed into a temple dedicated to their deity named Thien Hau – the goddess of sea who protects sailors from danger.

Free on Cua Dai Beach at afternoon, it is the 'seaside' area of Hoi An, famous for its Ancient Town and listed as one of Vietnam's five UNESCO World Heritage sites.

Enjoy the night of Hoi An ancient town, which was considered by Chinese and Japanese merchants to be the best destination for trading in all of Southeast Asia, even Asia in the 18th century.

Free on Cua Dai Beach at afternoon, it is the 'seaside' area of Hoi An, famous for its Ancient Town and listed as one of Vietnam's five UNESCO World Heritage sites.
Drive to Hue from Hoi An.

Visit The Imperial City (Vietnamese: Kinh thành Huế) in Huế which is a walled fortress and palace in the former capital of Vietnam.

Visit Tomb of Khải Định, which was built from 1920 to 1931 taking 11 years to complete. The tomb is a blend of Western and Eastern architecture. It is located on a steep hill.

Tomb of Tự Đức is located in Hue, Vietnam. It is built for the Nguyen Emperor Tự Đức and took three years to build from 1864-1867. It is divided into a Temple Area and a Tomb Area.

Thien Mu Pagoda is a historic temple in the city of Huế in Vietnam. Its pagoda has seven storeys and is the tallest in Vietnam.

At night Boat on Huong River. Listen to Ca Hue.
Fly to Hanoi from Danang.

Visit Vietnam Women's Museum, this museum highlights their roles in Vietnam's many military conflicts as well as in commerce, including features on female street vendors, women's role in the family, and more recently, single mothers in Vietnam.

Temple of Literature & National University.This temple is the oldest university in Vietnam, constructed in 1076. Five courtyards include beautiful gardens, walls inscribed with the names of scholars, several altars and a small museum

Watch the Water Puppet in Thang Long Theater. Traditional legends and historical tales are among the enchanting puppet plays performed at this popular theatre.

Enjoy the coffee nearby the Hoan Kiem Lake.
Day 15 Hanoi - Halong Bay
Morning drive to Halong bay about 2.5 hours.
Check – in junk in Ha Long Bay. Enjoy Welcome drink. Take the cruise to Amazing Cave & Luon Cave. Float on the bay to enjoy the scenery.
Day 16 Halong Bay - Hanoi
Wake up early to enjoy the pure morning on junk. Breakfast. Free at leisure.

Afternoon drive back to Hanoi. Free at Old Quarter.
Day 17 Hano - Luang Prabang
Free until take the flight to Luang Prabang. Arrival at Luang Prabang, transfer to hotel for rest.

Wat Xieng Thong (Golden City Temple) is one of the most important of Lao monasteries and remains a significant monument to the spirit of religion, royalty and traditional art. There are over twenty structures on the grounds including a sim, shrines, pavilions and residences, in addition to its gardens of various flowers, ornamental shrubs and trees.

Climb up 350 steps to the top of the Phou Sii hill to visit the Wat Phu Sii and enjoy commanding views for many miles in each direction.
Day 18 Luang Prabang - Pak Ou Caves
An optional early start gives you the fantastic opportunity to participate in the daily morning rituals of saffron-clad monks collecting offerings of Alms (often in the form of sticky rice) from the faithful residents. This tradition is very unique in Laos, being the only Buddhist nation still preserving the ritual.

Visit Royal Palace Museum (Haw Kham), which was built in 1904 during the French colonial era for King Sisavang Vong and his family. The site for the palace was chosen so that official visitors to Luang Prabang could disembark from their river voyages directly below the palace and be received there .

Take a Mekong Riverboat trip on the mighty Mekong River to visit the famous & sacred Pak Ou Buddha Caves - the caves are noted for their miniature Buddha sculptures. Hundreds of very small and mostly damaged wooden Buddhist figures are laid out over the wall shelves. They take many different positions, including meditation, teaching, peace, rain, and reclining (nirvana).

On return, we disembark the boat to visit traditional villages, and continue taking a short drive to Ban Phanom, a village famous for its hand weaving.
Day 19 Luang Prabang - Kuang Si Waterfalls
Today we cross the Mekong River by boat, to the picturesque village of Ban Chan, a pottery village. Then visit the morning Phousi Market, where you will see such diverse offerings as dried buffalo skin, local tea and saltpeter among the chickens, vegetables and hill-tribe weavings.

Laos is also known for its traditional crafts, and today you will visit local villages of Lao ethnic minority groups at Ban Ouay, a Hmong village, Ban Ou a Laoloum village and Ban Thapene, a Khmu village.

This then takes us to the beautiful Khuang Si Waterfall where you can cool off with a refreshing swim in the pools or walk along the forest trails.
Day 20 Luang Prabang - Chiang Mai
Free until take the flight to Chiang Mai.
Drive up the serpentine road to the magnificently situated Wat Doi Suthep. Perched on a forested mountain, this most sacred of Chiang Mai's temples (3,280 ft.) provides a superb view over the city, as well as a wealth of images and frescos.

You then pass the city's biggest market Going to two important temples – Wat Chedi Luang and Wat Phra Sing. The two main temples in the city center; "Chedi Luang Temple" where the Emerald Buddha was once enshrined and "Phra Singh Temple" with a 1,500-year old Buddha image.

Continue to Wat Chiang Man, and then return to hotel.
Day 22 Chiang Mai & Fullday Tour Elephant Safari - Orchid Farm
Drive from Chiang Mai City to Mae Rim. Starting with a visit to an elephant camp and having seen the admirable and intelligent animals bathing and working, you take an hour ride through the forest on elephant back.

Visit Hmong Nong Hoi Mai hilltribe village and The Royal Project. On the way back visit Queen Sirikit Botanic garden and orchid farm.

And transfer back to the hotel. Over night stay in Chiang Mai.
Free until send off to your next destination.
Package Details
Tour Package Includes:
Private transfer (air-conditioned vehicle) as listed in itinerary;

Entrance fee to all scenic spots listed in itinerary;

Local English speaking tour guide in each city as programmed;

3-star hotels in each city as programmed;

Daily bottle of mineral water.
Tour Package Excludes:
International & Domestic flights;

Optional meals/attractions/activities/tours;

Travel assurance & Personal assurance
(Better to purchase on your own in your country);
Tips for tour guides and drivers;

VISA fees;

Personal expenses;

Others not mentioned.