Home > China Tour > China Attractions
Mausoleum of Nanyue King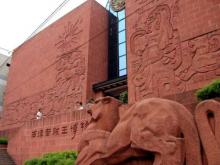 Mausoleum of Nanyue King
Museum of Nanyue King is a museum of the funerary objects unearthed from the oldest and largest king's tomb in South China. Zhao Mei, the owner of the tomb, is the second king of Nanyue Kingdom(137BC-122BC). The tomb and all the treasures are important historical relics which have significance on the study of Guangzhou's history and the development of economy, politics and culture.
Hidden 20 meters (65.6 feet) underground, it unearthed more than ten thousand rarity cultural relics such as "the golden stamp of Wen Emperor" and "the king's gold-embroidered jade suit" and lots of Jade pendants.
15 slaves and four imperial concubines were buried along with the emperor, which states the Cruel Sati System that had been abolished during the period of Qin and Han Dynasty(221BC – 8AD). However, we can find from the tomb that the Sati System was still existed in Nanyue Kingdom.
Top Tours in China