Home > China Tour > China Attractions
Great Mosque of Xi'an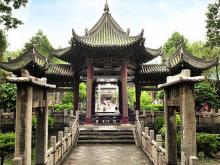 Originally built in 742 AD in Tang Dynasty (618 – 907 AD), Great Mosque of Xi'an combined Islamic culture with Chinese traditional architecture seamlessly and became most featured and renowned mosques in China.
Since Tang Dynasty, the Arabian merchants bring the Islam to the Chang'an (early name of Xi'an) by crossing the Silk Road, some of them settled down here. They began to learn local laws and custom, spread Islam to local residents, then built mosque for their worship and pray. With reconstruction and extension in the following dynasties, Great Mosque became an architectural complex that owns large-scale pavilions, towers, arches and palaces.
The mosque are full of Hui people during the praying time in every day. Muslims, both men and women, will do prays for five times in each day.
Top Tours in China