Home > China Tour > China Attractions
Chen Clan Academy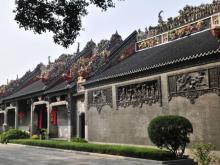 Chen Clan Academy
Chen Clan Academy, also known as Ancestral Temple of the Chen Family, was built in 1888. Chen Clan Academy was designated as the Guangdong Museum of Folk Art in 1959. With its typical magnificent architecture features, the academy is honored as the representative of Cantonese architectures and folk arts.
With an area of 15,000 ㎡, the academy is formed by 9 halls, 6 courtyards and 19 buildings connected by corridors.
Woodcarvings, stone carvings, brick carvings, Ceramic sculptures and Clay Sculptures are the typical architectural features of Chen Clan Academy. Woodcarvings can be represented from the girders and boards carved with fruits, animals and flower patterns. Stone carvings can be found at those poles, balusters and sidesteps. Brick carving is always decorated under the wall and doors. Clay Sculptures are always used at the base and the roof, representing the typical Cantonese architecture styles.
Top Tours in China