Home > Indochina Tours
18 Days Indochina Highlights Tour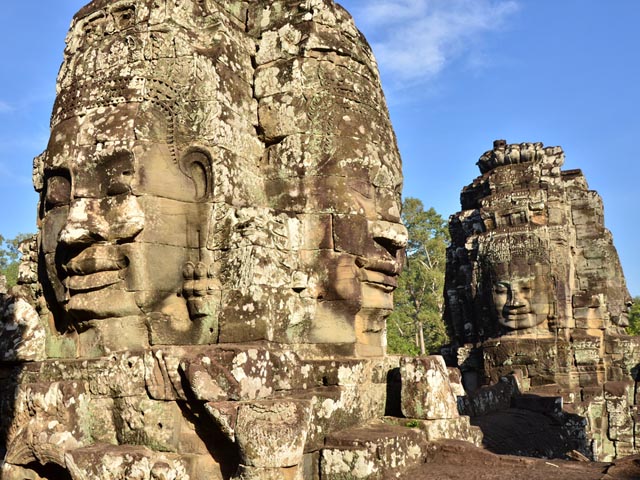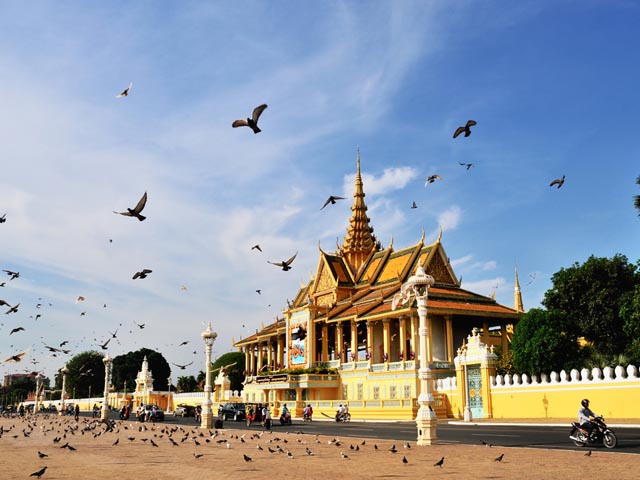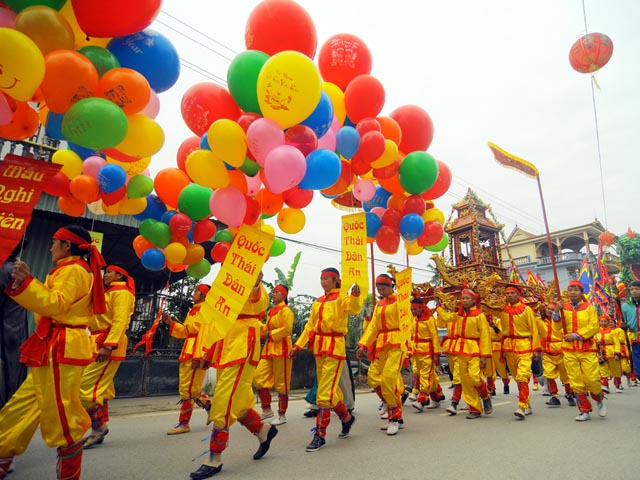 Tour Highlights
Vietnam Full View
Ancient Capital
World Heritage
Luang Prabang
Ankor Wat
Daily Itinerary
Meet you at airport, transfer to downtown.

Visit the Reunification Palace, formerly known as Independence Palace. It was designed by architect Ngô Viết Thụ and was the home and workplace of the President of South Vietnam during the Vietnam War.

Central Post Office features a Gothic architectural style.

Notre Dame Cathedral, constructed between 1863 and 1880, shows two bell towers, reaching a height of 58 meters.

Visit the War Remnants Museum.

Free at Ben Thanh Market. Popular with tourists seeking local handicrafts, textiles, áo dài, and souvenirs, as well as local cuisine.
Day 3-4 Saigon to Danang & Hoi An & Hue
Fly to Danang from Saigon about 70 minutes.

Drive to Hoi An, visit Fukian Assembly Hall, built around 1690 and functioning as a traditional assembly hall for the Chinese ethnic group from Fujian Province of China, but later was transformed into a temple dedicated to their deity named Thien Hau – the goddess of sea who protects sailors from danger.

Free on Cua Dai Beach at afternoon, it is the 'seaside' area of Hoi An, famous for its Ancient Town and listed as one of Vietnam's five UNESCO World Heritage sites.

Enjoy the night of Hoi An Ancient Town, considered by Chinese and Japanese merchants to be the best destination for trading in all of Southeast Asia, even Asia in the 18th century.

Visit Tra Que vegetable village, which is located in Cam Ha Commune, Hoi An Town. Tra Que is not only a brand known for making high-quality fresh vegetables, but also as an attractive destination for travelers inside and outside of the country.

Drive to Hue about 2 hours.

Visit the Imperial City (Vietnamese: Kinh thành Huế) in Huế, a walled fortress and palace in the former capital of Vietnam.

At night Boat on Huong River. Listen to Ca Hue.

Visit Tomb of Khải Định, built from 1920 to 1931 taking 11 years to complete. The tomb is a blend of Western and Eastern architecture. It is located on a steep hill.

Tomb of Tự Đức is located in Hue, Vietnam, built for the Nguyen Emperor Tự Đức and took three years to comlete from 1864-1867. It is divided into a Temple Area and a Tomb Area.

Thien Mu Pagoda is a historic temple in the city of Huế in Vietnam. Its pagoda has seven storeys and is the tallest in Vietnam.
Day 5 Danang Fly to Hanoi
Fly to Hanoi from Danang about 70 minutes.

Afternoon visit Vietnam Women's Museum, which highlights their roles in Vietnam's many military conflicts as well as in commerce, including features on female street vendors, women's role in the family, and more recently, single mothers in Vietnam.

Temple of Literature & National University. This temple is the oldest university in Vietnam, constructed in 1076. Five courtyards include beautiful gardens, walls inscribed with the names of scholars, several altars and a small museum.

Watch the Water Puppet in Thang Long Theater. Traditional legends and historical tales are among the enchanting puppet plays performed at this popular theatre.

Enjoy the coffee nearby the Hoan Kiem Lake.
Drive to Halong bay about 3 hours.

Check-in Junk in Halong Bay. Enjoy Welcome drink. Take the cruise to Amazing Cave & Luon Cave. Float on the bay to enjoy the scenery.
Drive back to Hanoi.

Visit Ho Chi Minh Mausoleum, Ho Chi Minh's house on stilts, Ho Chi Minh Square, One-Pillar Pagoda.
Day 9-11 Hanoi Fly to Luang Prabang
Fly to Luang Prabang from Hanoi about 60 minutes.

Visit the Street Night Market, where you can find the lovely collection and handmade textile by local and hill tribe people surrounding Luang Prabang, we then climb up to the top of Phousi Mount for an enjoyable exploration of the sacred, gilded stupa as well as viewing a beautiful panorama sunset over this once royal ancient city and the Mekong River.

Enjoy a short-guided tour seeing the city's oldest temple of impressive Stupa of Wat Visoun and the Shrine of Wat Aham, Wat Mai, Wat Sene and the magnificent Wat Xiengthong with its roofs sweeping low to the ground, which represent the classical architecture of Luang Prabang temple. Board a boat embarking upstream on the Mekong River, which also gives us a beautiful view of the tranquil countryside as well as an interesting visit to the mysterious of Pak Ou Caves, crammed with thousands of gold lacquered Buddha statues of various shapes and sizes. Along the way, we will stop at the Village of Ban Xanghai, where they make the local rice wine.

Drive to the beautiful Khouangsi Waterfall where you can splash around in the pools or walk along the forest paths. Observe the sunset at Wat Siphouthabath.

The National Museum at the former Royal Palace, which displays a lovely collection of the artifacts reflecting the richness of Lao culture dating from the days of the early kings right through the last sovereign, and the Central Market are not to be missed.
Day 12-13 Luang Prabang Fly to Vientiane
Fly to Vientiane from Luang Prabang about 40 minutes.

Visit Patuxay Monument, where you can climb the stairs to the roof for sweeping panoramic views of the city. Next, take you to That Luang, the holiest site in Laos. Constructed by King Setthethirat in the 16th century, the temple is resplendent as the sun shines upon its towering golden spire.

Enjoy tour of Vientiane and discover the hidden charms of the capital, whose name means 'the city of sandal wood'. Vientiane is one of the quietest capitals in the world, far away from the bustle and hustle of other Asian capitals and far from the real-estate frenzy of the regional megalopolis.

Your tour begins at the serene Wat Sisaket, the only temple left intact after the Siamese (Thai) invasion in 1828. Continue to the nearby Wat Phra Keo. Used as a religious museum, Wat Phra Keo displays a collection of both Lao and Khmer works of art. Also nearby, is the Presidential Palace. Stop at Wat Simuang, the most popular and venerated temple in Vientiane, as it is considered the guardian of the spirit of the city.
Day 14 Vientiane Fly to Phnom Penh
Fly to Phnom Penh from Vientiane about 1.5 hours

Visit Royal Palace, which is the residence of the King and Queen, it is set back from the riverfront, but in clear view of the Tonle Sap and Mekong rivers.

Silver Pagoda, floored with over 5000 silver tiles each weighing 1 kilogram, is famous for its 90kg solid gold Buddha made in 1907 with accompanying Emerald Buddha.

Take a boat half time to visit sunset on the Tonlé Sap Lake and Mekong River.

The Killing Fields (Choeung Ek) are situated 15 kilometers southwest of Phnom Penh. This place is a chilling reminder of the brutalities of the genocidal Khmer Rouge regime.

Known today as the museum of Genocide Crimes, Tuol Sleng Prison was institutionalized by the Khmer Rouge as a detention and torture center in the late 1970s.

Wat Phnom was built in 1372 by a rich Khmer lady named "Penh" who found a collection of statues of the Buddha washed up on the river bank and decided to house them on a nearby hill.

Russian Market (This market is probably the city's best source of objets d'ar).
Day 15-18 Phnom Penh fly to Siem Reap & Angkor Wat
Take the morning flight to Siem Reap from Phnom Penh about 45 minutes.

Meet you at airport, transfer to hotel for rest.

Angkor Wat, at the top of the high classical style of Khmer architecture, has become a symbol of Cambodia, appearing on its national flag, and it is the country's prime attraction for visitors. Enjoy the sunset at Phnom Bakheng. Located at the top of hill, it is nowadays a popular tourist spot for sunset views of the much bigger temple Angkor Wat.

Ankor Thom lies on the right bank of the Siem Reap River. The south gate of Angkor Thom is 7.2km north of Siem Reap, and 1.7km north of the entrance to Angkor Wat. The walls, 8m high and flanked by a moat, are each 3km long, enclosing an area of 9km².

Bayon, the most distinctive feature is the multitude of serene and massive stone faces on the many towers which jut out from the upper terrace and cluster around its central peak.

Ta Prohm. The photogenic and atmospheric combination of trees growing out of the ruins and the jungle surroundings have made it one of Angkor's most popular temples with visitors.

Preah Khan, it has been left largely unrestored, with numerous trees and other vegetation growing among the ruins.

Banteay Kdei, meaning "A Citadel of Chambers",also known as "Citadel of Monks' cells.

Visit Floating Village on the Tonle Sap and Artisans d'Angkor (Handicraft Center Supported by European Union).

Stay overnight at Royal Angkor Resort or similar 4-star hotel.

At last day, departure to your next destination from Siem Reap. The end of this trip.
Package Details
Tour Package Includes:
Private transfer (air-conditioned vehicle) as listed in itinerary;

Entrance fee to all scenic spots listed in itinerary;

Local English speaking tour guide in each city as programmed;

3-star hotels in each city as programmed;

Daily bottle of mineral water;

Service charge and government tax.
Tour Package Excludes:
International

& Domestic

flights of arrival & departure;

Optional meals/attractions/activities/tours;

Travel assurance & Personal assurance
(Better to purchase on your own in your country);
Tips for tour guides and drivers;

VISA fees;

Personal expenses;

Others not mentioned.