Home > Myanmar (Burma) Tour > Myanmar (Burma) Attractions
Mount Popa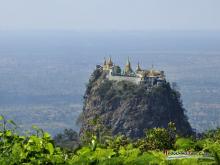 A visit to Bagan would not be complete without a trip to Mount Popa. Mount Popa is about 50 kilometers from Bagan downtown. Considered as one of the most popular pilgrimage spots and a great prayer attraction for Buddhist enthusiasts in Myanmar. Mount Popa used to be called the 'Mountain of Spirits,' and is still recognized as a dwelling of 'nats,' or spirits of ancient ancestors.
Mount Popa is a lone 2418ft peak like a tower standing apart from higher forested mountains. It was forged out of a volcano that many have erupted some 250,000 years ago. Up top there are gorgeous views back towards the Myingyan Plain and beyond.
Noticeably, one should climb this holy mountain on barefoot. It will take about 1 - 1.5 hours to finish all those steps, requiring good physical conditions. Also for the elderly and children, we highly recommend not to climb it and drive to a beautiful resort nearby for lunch on a veranda overlooking the mountain. What's more, the Popa Taungkalat Monastery stands the top of Mount Popa.
Recommended Tours with Mount Popa: 1 Day Bagan - Salay Exploration Tour; 7 Days Myanmar Classic Tour; 8 Days Inspiring Myanmar Tour; etc.
Top Tours in Myanmar (Burma)