Home > Myanmar (Burma) Tour > Myanmar (Burma) Attractions
U Bein Bridge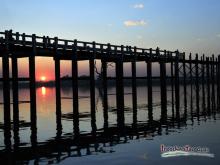 Located in the area of Amarapura, U Bein Bridge is near Mandalay city. It has a beautiful nickname – the Bridge of Lovers. As a legendary place with romantic stories, U Bein Bridge attracts lots of travel couples from all over the world.
U Bein Bridge is Amarapura's biggest draw and one of Myanmar's most photographed sites, with a remarkable 1300yd-long teak footbridge leading across the shallow Taungthaman Lake. As the longest and oldest teak-wood bridge in the world, U Bein Bridge sees a lot of life: fishers casting a line into the water, locals walking their bicycles home to Taungthaman village across the lake, and monks in saffron robes carrying alms bowls between the monasteries on both sides…
The best time to visit U Bein Bridge are after sunrise or before sunset. Take a boat cruising on the lake, you will be attracted by the stunning views on the water and can see hundreds of villagers commute back and forth across the bridge.
Recommended Tours with U Bein Bridge: 4 Days Yangon - Mandalay Circling Tour; 7 Days Myanmar Classic Tour; 13 Days Myanmar Exploration Tour; etc.
Top Tours in Myanmar (Burma)