Home > Myanmar (Burma) Tour > Myanmar (Burma) Attractions
Shwe Inn Dain Pagoda Relics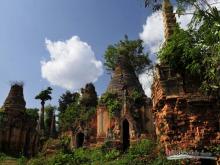 Shwe Inn Dain is a cluster of pagoda relics, located in Nyuang Shwe Town on the western bank of Inle Lake. First built in 272 BC – 232 BC by Thiridama Thawka, Shwe Inn Dain had been repaired and constructed for expansion.
Nowadays, it has become an extensive architectural complex with over one thousand pagodas.
Some pagodas have been built recently, while many relics house lots of vivid Buddha statues with different shapes and a variety of animals' images, surrounded by banyans and grasses.
Shwe Inn Dain represents Myanmar's traditional architecture between 14th century and late-18th century, with unique art and culture melting into the plaster by means of distinctive techniques of Myanamr.
Top Tours in Myanmar (Burma)