Home > Myanmar (Burma) Tour > Myanmar (Burma) Attractions
Mandalay Palace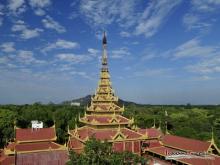 The Myan Nan San Kyaw, or Royal Palace, was the first palace to be built in Mandalay. Constructed by King Mindon, who moved his capital from Amarapura to Mandalay, the location was chosen because of astronomical calculations and favourable omens.
The plan of Mandalay Palace largely follows the traditional Burmese palace design, inside a 2-mile-long and 26ft-high walled fort surrounded by a moat. The palace itself is at the center of the citadel and faces east. The entire palace complex was destroyed by fire during World War II, but it has been restored.
Today, Mandalay Palace is a primary symbol of Mandalay and a major tourist destination. Visitors can enter at the east gate, where a road passes off-road army barracks before arriving at the royal palace site, surrounded by an internal ring road in the center.
Recommended Tours with Mandalay Palace: 7 Days Myanmar Classic Tour; 9 Days Myanmar Highlight Tour; 13 Days Myanmar Exploration Tour; etc.
Top Tours in Myanmar (Burma)