Home > Myanmar (Burma) Tour > Myanmar (Burma) Attractions
Inle Lake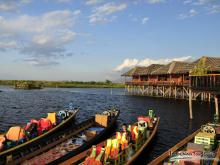 As one of the top five attractions in Myanmar, Inle Lake is suitable for canoe trips to Intha villages, floating gardens and tribal markets, etc. Every day, dozens of motorized long-boats skitter along the reed-lined channel connecting the main body of Inle Lake to Nyaungshwe village, a bustling traveler center with lots of guesthouse, hotels and restaurants.
Inle Lake is adorned with the surrounding stilt-house villages and floating gardens of the Intha tribe. Encountering the Shan, Pa-O, Taung Yo, Danu, Kayah and Danaw tribal people is also a wonderful experience in Inle Lake tour.
Boats are the main method of transport around Inle Lake. Visitors are transferred to tribal villages, floating pagodas, inevitable craft workshops and souvenir shops. But most Intha people get around using traditional flat-bottomed skiffs propelled by a single wooden paddle. The Intha technique of leg-rowing – where one leg is wrapped around the paddle to drive the blade through the water in a snake-like motion – is unique. It is really a distinctive picture on Inle Lake.
Recommended Tours with Inle Lake: 1 Day Inle lake Trekking Tour; 8 Days Inspiring Myanmar Tour; 13 Days Myanmar Exploration Tour; etc.
Top Tours in Myanmar (Burma)