Home > Myanmar (Burma) Tour > Myanmar (Burma) Attractions
Indein Village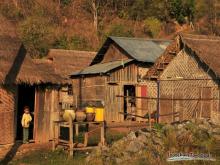 Indein Village is located in the west of Ywama Village of Inle Lake area, on the western bank of Inle Lake in Myanmar, entered through a narrow, foliage-cloaked winding canal where the jungle grows denser and denser on either side.
Indein Village is known for a cluster of incredible atmospheric ruined pagodas, among which the most famous two are Nyaung Ohak which houses crumbling stupas with ornate stucco carvings of animals deva, etc., and SHwe Inn Thein Pagoda, a complex of 1054 weather-beaten pagodas built in 17th and 18th centuries.
Indein Village is part of the five-day inshore circuit and one of the largest and liveliest markets in the area. Numerous P-O and Danu tribal people come down from the hill and villagers engage in bon-lethal cockfights and football and chinlon matches.
Recommended Tours with Indein Village: 8 Days Inspiring Myanmar Tour; 9 Days Myanmar Highlight Tour; 13 Days Myanmar Exploration Tour; etc.
Top Tours in Myanmar (Burma)