Home > Myanmar (Burma) Tour > Myanmar (Burma) Attractions
Bogyoke Market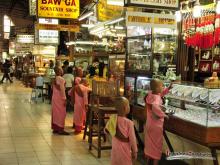 Bogyoke Market, named after great General Aung San and also called Scott Market in old British, is a major bazaar in central Yangon, built in 1926, late in the British rule of Myanmar. Renowned for the colonial architecture and inner cobblestone streets, Bogyoke Market is not only a commercial place, but also a popular tourist destination in Yangon. It welcomes a large number of foreign visitors everyday.
This 70-year-old sprawling market has over 2000 shops of antique, Burmese handicraft, jewelry, art crafts and clothes, etc. Wandering around Bogyoke Market, you will find a whole variety of interesting souvenirs, from lacquerware and Shan shoulder bags to T-shirts and puppets. Bogyoke Market is a fantastic opportunity to smile, laugh and haggle alongside local shoppers selling medicine, foodstuffs, garments and foreign goods.
Recommended Tours with Bogyoke Market: 8 Days Inspiring Myanmar Tour; 5 Days Myanmar Discovery Tour; 9 Days Myanmar Highlight Tour; etc.
Top Tours in Myanmar (Burma)