Home > Myanmar (Burma) Tour > Myanmar (Burma) Attractions
Ananda Temple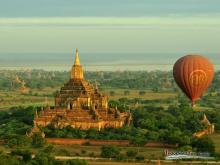 Ananda Temple is one of the finest, largest, best-preserved and most revered of all Bagan temples. With its shimmering gold, 170ft-high, corncob-style hti shimmering across the plains, Ananda Temple is also one of the few surviving examples of Mon architecture, built in 1105 AD and damaged due to an earthquake in 1975 but has been totally restored. The perfectly proportioned Buddhist temple heralds the stylistic end of the early Bagan period and the beginning of the middle period.
Ananda Temple houses four 31ft standing Buddha statues, each one facing the cardinal direction of East, North, West and South. Take a brief walk around the outside Ananda Temple, you can see many glazed tiles and lovely views of the spires and terraced roofs.
On the west of Ananda Tempe's northern entry stands a small sanctuary called Ananda Ok Kyaung, featuring some detailed 18th-century murals bursting with bright red and green, showing details of daily life from the Bagan period.
Recommended Tours with Ananda Temple: 5 Days Myanmar Discovery Tour; 9 Days Myanmar Highlight Tour; 13 Days Myanmar Exploration Tour; etc
Top Tours in Myanmar (Burma)