Home > Cambodia Tour > Cambodia Attractions
Wat Phnom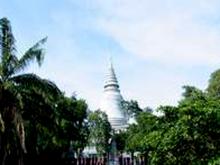 Wat Phnom, whose name means "mountain pagoda" in Khmer language, is the tallest Buddhist temple in Phnom Penh, capital of Cambodia. Set on top of a 27m-high hnoll, Wat Phnom is on the only "hill" in the city. Many people come here to pray for good luck and success in many affairs. It is also the center of celebration during Khmer New Year, and Pchum Ben.
The main entrance to Wat Phnom is via the grand eastern staircase. The temple sanctuary was built for several times in the past. The interior has a central altar complex with a large bronze seated Buddha surrounded by other statues, flowers, candles and items of devotion and worship.
On the way up to the summit of Wat Phnom, you can see beggars, street urchins, women selling drinks, etc. What's more, enjoying an elephant ride around the base of the mountain and taking some elephant-trekking photos are interesting experience in Cambodia tour.
Top Tours in Cambodia