Home > Cambodia Tour > Cambodia Attractions
Ta Som Temple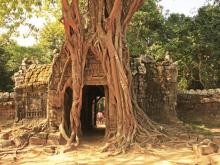 Standing to the east of Neak Pean (also called Preah Neak Peon) and the northeast of Angkor Thom, Ta Som is a small late-12th-century Buddhist temple built for King Jayavarman VII, the Donald Trump of ancient Cambodia.
The temple consists of a single shrine located on one level and surrounded by enclosure laterite walls. The most impressive feature at Ta Som is the huge tree completely overwhelming the eastern gopura, which has become one of the most popular photo opportunities in the Angkor area.
Like the nearby Preah Khan and Ta Prohm the temple was left largely unrestored, with numerous trees and other vegetation growing among the ruins. In 1998, the World Monuments Fund (WMF) decided to begin to restore this ruinous Ta Som Temple.
Top Tours in Cambodia