Home > Cambodia Tour > Cambodia Attractions
Ta Keo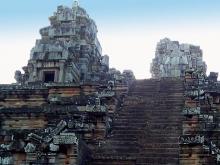 Ta Keo is a temple-mountain in Angkor, constructed by Jayavarman V and dedicated to Shiva. It was the first Angkorian monument built entirely of sandstone. Regard as an example of Khleang style, Ta Keo houses five sanctuary towers arranged in a quincunx, built on the uppermost level of five-tier pyramid consisting of overlapping terraces, surrounded by moat.
The summit of the central tower is almost 50m high. This quincuncial arrangement is typical of many Angkorian temple-mountains, as a symbolic depiction of Mt. Meru.
The main axis of Ta Keo is E-W. A 500m-long causeway links its eastern entrance to a landing stage on the Eastern Baray, with which Ta Keo was in tightly relationship. The outer banks of the surrounding moats now have been vanished.
Top Tours in Cambodia