Home > Cambodia Tour > Cambodia Attractions
Preah Vihear Temple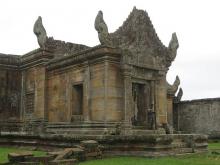 Preah Vihear Temple, located in Preah Vihear Province in Cambodia, is an ancient Hindu temple built during the reign of the Khmer Empire, located in the border with Thailand, which resulted in a lengthy ownership dispute between Thailand and Cambodia. With a long history, Preah Vihear Temple, thought to be first built in 9 century, took about 200 years to complete because of unceasing royal internal conflicts. It was designed to represent Mt. Meru and was dedicated to the Hindu deity Shiva.
The 800m-long Preah Vihear Temple has been well preserved due to the remote position and rugged terrain. Perched at a 550-meter cliff in the Dangrek Mountains with a panoramic view of extensive northern plain, Preah Vihear is a complex of astonishing architectures resembling Angkor Wat, another world-famous UNESCO world heritage site in Cambodia.
This four-layer temple, housing four courtyards with four long stairs in four fences, is a blend of natural beauty and religious function, with exquisite stone carvings, a treasure of ancient civilization. Each floor owns gate and fence decorated with delicate carvings.
(Left is the plan of Preah Vihear Temple)
Top Tours in Cambodia