Home > Cambodia Tour > Cambodia Attractions
Preah Palilay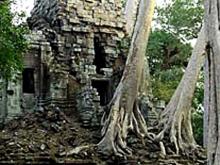 Preah Palilay, located in Angkor Thom, 400m northwest of Phimeanakas, is a Buddhist temple surrounded by jungles. It was erected during the reign of Jayavarman VII, originally housing a Buddha which has long since vanished.
Preah Palilay has a cross-shaped terrace, with well-preserved seven-headed naga balaustrades (a motif in Khmer architecture). A 33m-long causeway connects it to the single sandstone gopura.
Nearby is a small Buddhist temple, so the presence of Buddhist monks at Preah Palilay is not uncommon which gives the temple a feeling of an active place of worship.
Top Tours in Cambodia