Home > Cambodia Tour > Cambodia Attractions
Preah Khan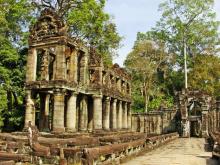 As one of the largest temple complexes at Angkor, Preah Khan (also named Sacred Sword) was built by Jayavarman VII and served as his temporary residence before Angkor Thom was completed. It is a place of towered enclosures and shoulder-hugging corridors with fine carvings and lichen-clad stonework. At present, thanks to great efforts from the World Monuments Fund, Preah Khan has been well preserved mostly.
Covering a very large area, Preah Khan Temple is within a rectangular enclosing wall of around 700m by 800m. Four walkways to the gates of the temple, are bordered by another depiction of the Churning of the Ocean of Milk. And most of stone heads have gone in the gateway to Angkor Thom.
Preah Khan Temple is really a fusion temple. The eastern entrance dedicated to Mahayana Buddhism with equal-sized doors, and the other cardinal directions dedicated to Shiva, Vishnu and Brahma with successively smaller door, emphasizing the unequal nature of Hinduism. Time and nature influences the temple gradually, and left us amazing place to discover.
Recommended Tours with Preah Khan Temple: 2 Days Angkor (Siem Reap) Succinct Tour; 5 Days Angkor (Siem Reap) Discovery Tour; 7 Days Cambodia Highlights Tour; etc.
Top Tours in Cambodia