Home > Cambodia Tour > Cambodia Attractions
Pre Rup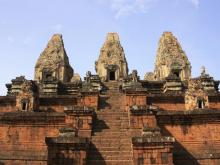 About 1km south of the Eastern Mebon in Angkor, Pre Rup, built by RajendravarmanⅡ, is a temple mountain of combined brick, laterite and sandstone construction. The extensive laterite and brick give Pre Rup a pleasing reddish tone that is heightened by early morning and late afternoon sunlight.
Pre Rup means "Turning the Body" and refers to a traditional method of cremation in which a corpse's outline is traced in the cinders, which rotated in different directions as the service progressed.
Pre Rup is a pyramid-shaped temple-mountain with the uppermost of the three tiers carrying five lotus towers. The brick sanctuaries were once decorated with a plaster coating, fragments of which still remain on the southwestern towel with some amazingly detailed lintel carving here.
Top Tours in Cambodia