Home > Cambodia Tour > Cambodia Attractions
Prasat Kravan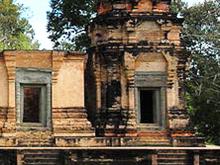 Built in the 10th century, Prasat Kravan, is a small temple in Angkor of Cambodia. Dedicated to Vishnu, it faces to the East, housing five reddish brick towers on a common terrace, surrounded by a small moat.
The exterior of Prasat Kravan is impressive for its classical lines and symmetry. The south and the central tower have superstructures make a good use of false perspective by simple means of diminishing tiers.
The sanctuary's interiors are remarkable for the large bas-relief depictions of Vishnu and Lakshmi that have been carved into the walls of reddish brick, connected by a vegetable compound. This type of sculptured artwork is rather common in Cham temples, but rare in known Khmer monuments.
Top Tours in Cambodia